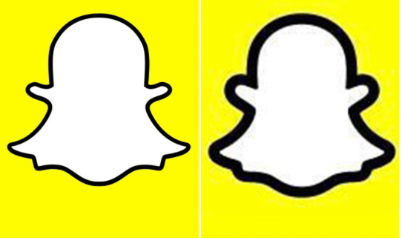 Google Images
Nothing could have prepared the internet for the latest update Snapchat rolled out. Something big like a total layout redesign would be expected, but instead they simply thickened the outline to their iconic ghost.
The new icon was met by the internet with anger and confusion. It's reminiscent of when Snapchat switched up where certain features were available back in 2018. They did it to separate the snaps of your friends and the snaps of professionals. That update caused such a huge uproar that nearly 1 million people signed a petition to have the app switch back.
"I have such a love hate relationship with Snapchat," junior Niki Andrews said. "They have time to make their ghost icon more bold, but they won't let us change the terrible usernames we made in middle school."
Snapchat didn't care that people were mad in 2018 and it's unlikely the company will care that people are mad now. The current change didn't cause as much of an outrage as the previous update, but it did still manage to upset people. 
"It was weird that they changed the logo and at first it bothered me a lot," senior Jennifer Torres said. "I'm mostly okay with it now, but I still get an off-putting feeling every time I open it." 
 Many other people took to twitter to say things such as that the new thicker icon was "aggressive and uncomfortable." Others said they would hide the app in their phone to decrease the amount they saw it as much as they possibly could. Some even went as far as deleting the entire app because they disliked it that much. It's safe to say that even the slightest change can get people's blood boiling.
 It's been a couple weeks since it was changed, so that energy from before has definitely calmed. People have learned to move on and just accept that the ghost they've known all these years is no more. The internet must now welcome this new thicker ghost. 
"I feel like I'm the only one that loves that snapchat changed the logo," junior Nia Banks said. "The world needs more thick icons, so anyone who disagrees can just step aside."