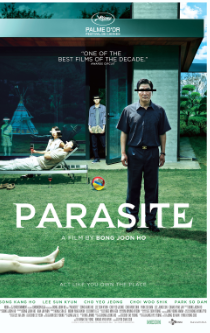 CJ Entertainment
"Parasite," produced by Bong Joon-ho, was released on Oct. 11, 2019. The film is a well-developed social satire, showing the reality of both poor and rich families. 
Before the movie was released, "Parasite" won the Palme d'Or at the Cannes film festival in 2019. After that, it received more awards at the Golden Globes, where it was nominated for best foreign language film, screenplay of a motion picture and director of a motion picture. Out of the three, "Parasite" won best foreign language film, a new record in Korean history to receive the Golden Globe award. But the achievements of this masterpiece didn't end there. 
The Oscar awards, which will be held on Feb. 9, has nominated "The Parasite" in six categories, including best picture, best director, best foreign language film, best original screenplay, best production design and best film editing. Critiques are saying that "Parasite" deserves the awards it was nominated for. 
Besides the awards mentioned, "Parasite" was nominated for much more festivals and awards, which tells that movie must be pretty good. "Parasite" is still in local cinemas, so it is not too late to catch the new booming masterpiece.