Cream Pie Recipe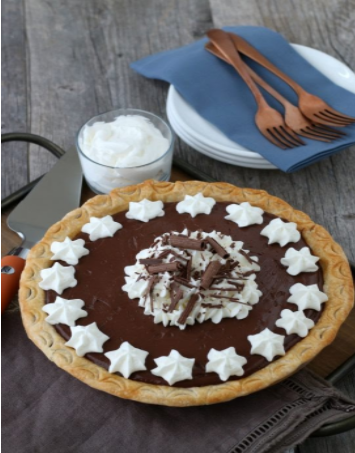 This recipe will provide tips, tricks, ingredients and the steps to making two pies. The flavors that will be provided with instruction are vanilla cream, chocolate cream, coconut cream and chocolate coconut cream pies. If you only wish to make one of these pies, please remember to divide the cost of ingredients in half. This recipe will also include basic instructions for making a crust for the pies. You will need to pre-own certain at-home essentials to complete this recipe.
This recipe should take about two days to complete and will have 6 servings of 2.
Items you need to own:
-Stove/ oven
-Saucepan (medium-large)
-Large mixing bowls (3-4)
-Whisk
-Wire mesh strainer
-Silicone spatula
-Hand mixer or stand mixer with whisk attachment
-Liquid measuring cups (2 cup)
-Measuring spoons
-Plastic wrap
-Pastry cutter
-Cutlery
-2 pie pans 
Ingredients for crust:                           Ingredients for cream: 
-2 1/2 cups all purpose flour                   -2.5 cups of whole milk  
-1 tablespoon granulated sugar              -12 ounces evaporated milk
-1 teaspoon kosher salt                          -⅛ teaspoons of salt 
-1 cup cold butter, cubed                        -1 tablespoons of vanilla 
-2 teaspoons apple cider vinegar           -1 ⅓ cup granulated sugar 
-1/2 cup ice water                                   -½ cup cornstarch
                                                                -12 ounces egg yolks (365 g, or about 14-16 eggs)
                                                                -3 tablespoons of butter
                                                                -½ cup of chocolate chips
                                                                -¾ cup of shredded coconut
Instructions for crust:
In a mixing bowl, whisk together the 2 ½ cups of all purpose flour, 1 tablespoon of granulated sugar and 1 teaspoon of kosher salt. Then add in the 1 cup of cold butter in cubes before using a pastry cutter or anything else you can manage to mash the butter with.
Add the 2 teaspoons of apple cider vinegar and ½ cup of ice water to the mixture and stir until it becomes hard to. At this point you will need to knead the dough with your hands, don't worry, it shouldn't be too sticky. If the dough is too dry add 1 tablespoon more of ice water until it holds.
Divide dough into halves and form a flat circle before covering both in plastic wrap. This should be refrigerated for at least an hour minimum (3 days maximum). 
When your dough is ready, you will roll out the dough into a circular shape and press it lightly into the bottom of the pie pan. Now you're ready for the filling.
Instructions for cream:
In a mixing bowl, whisk together the ½ cup of cornstarch and the 1 ⅓ cup of granulated sugar. Once combined, add the 12 ounces of egg yolks and stir it together to make a yellow paste substance. Set aside for later use.
Combine the 2.5 cups of whole milk, 12 ounces of evaporated milk, ⅛ teaspoon of salt and vanilla in a medium or large saucepan. Bring the mixture to a boil and stir occasionally.
When it starts to boil, turn off the heat. Allow it to cool slightly.
Gradually whisk the milk mixture into the yolk paste, make sure to only do little at a time so the eggs don't curdle. 
Pour the mixed contents into the saucepan once again and set the stove to medium heat. You must whisk the mixture constantly so the eggs do not cook. Do this until the mixture thickens and starts to pull away from the side of the pan. 
Remove the pan off of the stove and strain the mixture into a bowl. Straining removes any leftover egg membrane still in the mixture. This mixture at the end is the basic vanilla cream pie filling unless you choose to add anything else. It also tastes good to add in some sliced bananas if you wish to make a banana cream pie.
Other than vanilla and banana cream, here's how to utilize both the coconut and chocolate to make different flavor pies. 
Chocolate Cream:
Add the ½ cup of chocolate chips to the vanilla cream mixture along with the 3 tablespoons of butter and stir until both the chocolate and butter are completely melted into the mixture. 
Coconut Cream
Add the ¾ cup of shredded coconut to the vanilla cream mixture along with 3 tablespoons of butter and stir until the butter is completely melted into the mixture. 
Chocolate Coconut Cream:
Add both the ¾ cup of shredded coconut and the ½ cup of chocolate to the vanilla cream mixture along with the 3 tablespoons of butter and stir until both the butter and chocolate are completely melted into the mixture.
The butter and chocolate added to their mixtures  should be able to melt in the mixture because it would have just come off of the stove not long ago. After you put your cream into the pie crust, put a plastic wrap over the cream and let it chill in the fridge for three hours minimum- 3 days max.
Tips and Tricks:
If making two different pies of different flavors (ie: chocolate and vanilla), then make sure that the bowl you're using for the chocolate cream is warm/ room temperature before you divide the vanilla mixture. This is so the vanilla cream won't cool down too quickly before it can melt the chocolate and butter. 
If the heat is too high or you begin stirring too slowly when the pastry cream is boiling, it will start to clump. If that happens, make sure to pass it through a strainer immediately before it cools down.
Make sure to strain your vanilla cream before chilling it in the refrigerator because the egg membranes are quite noticeable in a chocolate cream pie. 
After you've finished cooking your pastry cream try not to scrape the bottom of the pan. It is common for there to be little scorched bits on the bottom and they're not very pretty to look at (not very tasty..).
It's also nice to add a whipped cream topping for the cream pies, you can do that very easily by whipping 1 cup of heavy cream in a bowl until stiff peaks form. Then beat in 1 teaspoon of vanilla extract and 1 tablespoon of confectioners' sugar into the mixture until peaks form again. 
View Comments (1)
About the Contributor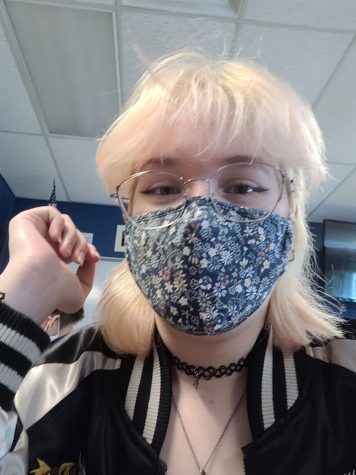 Sophia Vito, Reporter
My name's Sophia Vito and this year I am a junior reporter. It's my second year on the newspaper staff. I like to write and I want to work on my people...