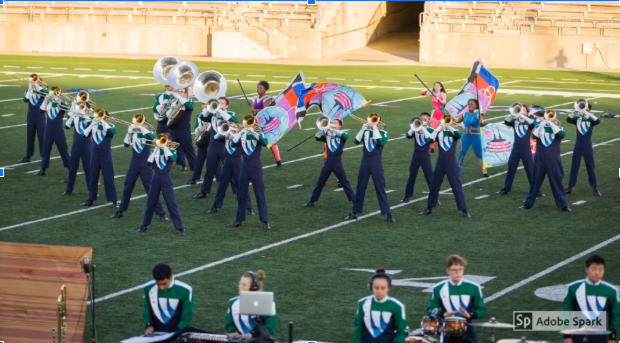 Marching Band receives division 1 at Region 26 Marching Band Contest
The band received a division 1 at The Region 26 UIL Marching Band Contest on Oct. 19 at the Kelly Reeves Athletic Complex. 
      "The time and dedication that was needed for us to excel to this point was reflected in our show '1964: The Future is Now' since it was given a 1 which is the highest score," sophomore Faith Larimore said.
The competition consisted of judges that scored RRISD bands (McNeil, Cedar Ridge, Round Rock, Stony Point)  based on various factors including tone, musicianship and execution of the marching drill/choreography. 
"This performance is mandatory for all band members to attend and receive a band division for their high school," sophomore Shreeya Khatiwada said.
Even though the band successfully ended the marching season with a division 1, for seniors the event is bittersweet, since it is the last marching event they will participate in.
"I feel pretty sad since I know it's one of my last competitions of the year," senior and captain of the Woodwind team, Valerie Alvarado said. "But I'm looking forward to ending the season with great memories."
The marching season is now ending, but concert season is just beginning.
"Despite the challenges that we face individually and as an ensemble, it is the sense of accomplishment and confidence at the conclusion of each show that is reflected in every member's smile that makes band always worth putting forth your best," Larimore said. "We ultimately produce this show as a gift for the audience, and to engross all of oneself into music, marching, and choreography."