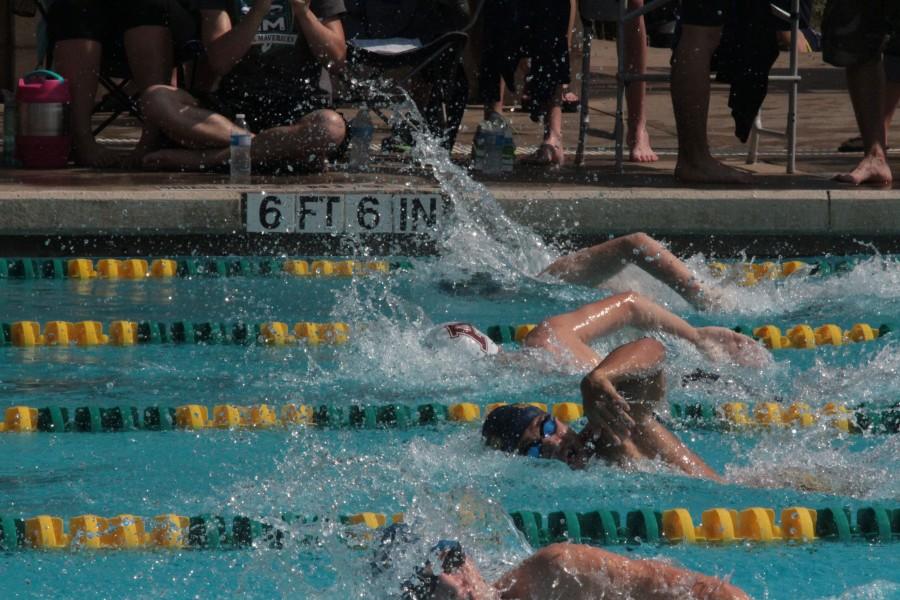 The swim team continued to represent the Mavs well at the region swim meet on Feb. 6-7 with two events advancing to the state swim meet.
"Being in the middle of so many amazing swimmers and divers, as well as fantastic performances, was an awesome yet draining experience," coach Johnny Foss said. " We had some amazing displays of competitive greatness and a lot of chances at advancing to state."
The names and events of the swimmers who advanced from Friday to the B Finals on Saturday are listed below.
Boys 200 medley relay
Christine Gozdalski – 100 and 200 freestyle
Kate Shomper – 200 IM and 500 freestyle
Cara Chin – 50 freestyle
Kaitlyn Freeman – 50 freestyle
Josh Harris – 100 freestyle
Ada Forbes – 500 freestyle
Ashleigh Thompson – 100 freestyle and 100 backstroke
Azea Gluff – 100 backstroke
Mackenzie Glava – 100 breaststroke
Alix Gavin – 100 breaststroke
The following swimmers advanced to the A final on Saturday and therefore had a chance to make state:
Girls 200 medley relay
Nicole Bogusch – 1 meter diving
Ross Sullivan – 50 freestyle and 100 freestyle
Girls 200 freestyle relay
Boys 200 freestyle relay
Josh Harris – 100 breaststroke
Boys 400 freestyle relay
Along with all of these efforts, senior Ross Sullivan advanced to state in the 100 freestyle event and the Boys 400 freestyle relay (Ross Sullivan, Nick Shomper, Josh Sullivan, Josh Harris) also made it to the next level, which will be held at the UT swim center on Feb.  20-21.
"We are very proud of all of our Maverick competitors," Foss said. "McNeil once again helped establish our region as the fastest region in the state of Texas by far."