A Spooktacular Madeas Halloween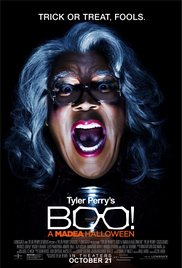 Wow. All I can say is wow to Tyler Perry on his latest movie Boo! A Madea Halloween. It's one of the best movies I have seen from Tyler Perry in the last two years.
It was really funny and truly entertaining; and it is a good family comedy film. If you go see this movie, you will be satisfied.
It starts with 17-year-old Tiffany sneaking out of the house to go to a Halloween party at a fraternity when her dad and the cops come and crash it. Because Tiffany is unhappy with her dad, she teams up with the college students to make a zombie apocalypse and other pranks to scare Medea and the whole town.
I love this movie and recommend you go see it. It's really awesome and you will laugh.
Leave a Comment