Welcome to The Yard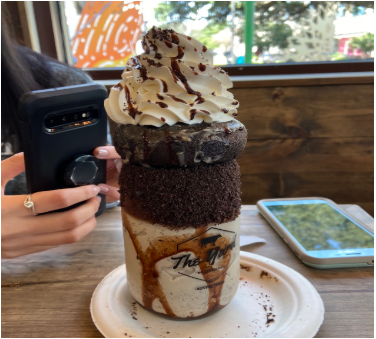 The Yard Milkshake Bar definitely holds the position of being the most creative and innovative milkshake bar by far. Their milkshakes are known for their unique flavors and jaw-dropping toppings, including a whole slice of cheesecake, brownies, cupcakes or even a whole banana.
Located in the heart of Domain Northside, it serves as a hidden gem amongst all the other attractions.
First opened in Gulf Shores, Ala. in 2017, the Yard was a friendly local establishment where friends and family gathered. It opened up more locations during the past summer, including the one here in Austin. The Yard soon gained popularity and at the end of 2019 (only a few months ago), it went on to be featured on Shark Tank. 
In the world of shakes, The Yard's are iconic. There are about 33 flavors to choose from, from brownie batter to caramel cheesecake to mango to key lime pie. As mentioned earlier, there are also many toppings to choose from. The toppings are split into two sections: normal toppings (oreos, graham crackers, gummies) and specialty toppings (the cheesecakes, brownies and cupcakes). Not to mention, the cute mason jars that the milkshakes are served in are available to take home with no added cost.
Although the Yard specializes in milkshakes, they also provide options for those non-ice cream lovers. Varieties of cookie dough scoop flavors are available to eat alone or with toppings.
The Yard is not only a place to get sugar, but it also serves as an experience. From the friendly staff to the aesthetic decorations and personal washing station for your mason jar, it's definitely a place to visit with your friends and family.
About the Writer
Shreya Rajavelu, Reporter
Hey! My name is Shreya Rajavelu and I'm a sophomore reporter. I'm passionate about writing and music and am part of the varsity choir 'Chambers' ...