Special Thanksgiving sides
Let's be honest, turkey is great, but thanksgiving food is all about the sides. Every family has at least one special homemade side that's been either passed down, or just thought of. These particular sides for my family are what we like to call "Cinnamon Honey Butter" and "Marshmallow Salad." First we'll talk about the "Cinnamon Honey Butter." The idea of making this side actually came from Texas RoadHouse, which you may know is famous for their fantastic butter and rolls. I loved them more than anything on the menu. My mom tried to get some individually, but they only came with a meal so she decided to surprise me with some of her own homemade "Cinnamon Honey Butter." Ingredients of the delicious side include, 8 oz of whipped salted butter (softened), ½ cup of powdered sugar, 2 tsp of honey and finally 2 tsp of cinnamon. You mix all ingredients until smooth and serve with hot rolls. For me, this is my favorite Thanksgiving side. 
Moving on to the second side, "Marshmallow Salad" is a recipe originally coming from my grandma, a mixed up jumble of strange foods that strangely tastes good. The ingredients are, 8 oz of sour cream, a bag of mini marshmallows, 8 oz pineapple bits, 1 cup green grapes halved, 8 oz mandarin oranges and 8 oz raspberries. In a large bowl, mix all ingredients except raspberries, refrigerate salad overnight and before serving mix in raspberries. Both of these are amazing Thanksgiving sides that I highly recommend!
About the Writer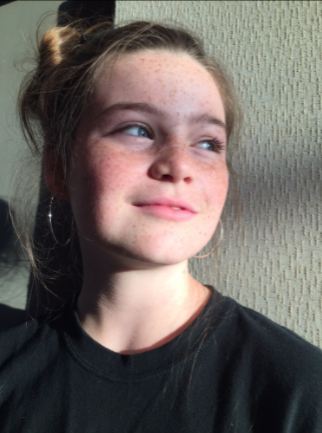 Ellie Warthen, Reporter
My name is Ellie Warthen I'm in 10th grade, this is my first year on staff and my second year in the McNeil Colorguard.