Lorde's "Solar Power" is Mature and Deeply Personal
Lorde's newest album, "Solar Power," takes a sharp turn away from the party scene of her last album, Melodrama. In place of her old frenzied tone, she's developed a much more mature one. While her first two were coming-of-age albums (released at ages 16 and 20), "Solar Power" comes from the voice of an adult; she's much more sure of herself and her convictions.
This growth is evident in her song "Secrets from a Girl (Who's Seen it All.)" This track seems to speak to the audience much more than the rest, taking on a wise tone. The song feels like an assurance to the listener that everything will be alright, which is in sharp contrast with past songs where she poured out her own fears about growing up. "It feels so scary getting old," she sang in her song Ribs at age 16. Now, she looks back on that journey, reflecting on when she "couldn't wait to turn fifteen/then you blink and it's been 10 years." 
A feature on Lorde in the New York Times discusses this growth. "No one, famous and feted at 16, could possibly be so well adjusted. Right?" it asks. But this new era of Lorde has proven them wrong time and time again. The album reflects her newfound contentment, as well as the work it took her to get there.
The feature details the steps she's taken to disconnect from the world of social media. She says she has severely cut down on screen time, switched her phone to grayscale and sees a therapist regularly.
The newfound maturity and honesty has a great effect on the album, but that's not to say it's without error. At times, such deeply personal lyrics are less than universal. In Oceanic Feeling, she recounts days under the sun with her family, singing "Little brother, I think you're an angel/I see your silver chain levitate/When you're kickflipping." It paints a vivid picture, but one that's unfamiliar to most listeners.
Another thing that differentiates the album from the last two is its subject matter. While her last two albums focused on her fears and insecurities, "Solar Power" focuses on the things she loves. It even includes a song that is uncharacteristically romantic for Lorde, for whom, even at age 16, class struggles were a more common thematic element in her albums than love. "The Man With the Axe" contrasts moments at home with a lover against scenes at big music festivals, singing of the comfort she feels with him, away from the crowds. On her album Melodrama, her song Liability talks about dancing alone because she had "screwed up" all her other relationships. In "The Man With the Axe," she describes dancing with her partner, saying "the world falls away."
Together, all of these components form a beautiful, relaxed journey through the artist's mind. Though it may lack the dark overtones of "Pure Heroine" and "Melodrama," "Solar Power" does not lack the emotional depth. The album still builds a complex narrative on life. It's just happier.
Leave a Comment
About the Contributor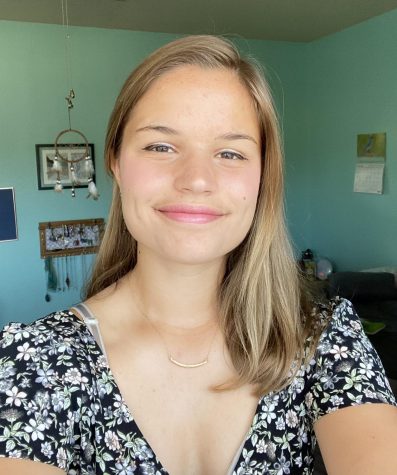 Carter Poore, Editor In Chief
Hi, I'm Carter. Other than writing and editing for the Trailblazer, I am the girls tennis team captain and I enjoy reading, watching TV, going for walks...