Swimmer Accepts Scholarship to UMBC
This past month, senior Kira Morgan signed on to swim for the Mighty Retrievers at University of Maryland at Baltimore County. It took years of hard work to get acceptance and a scholarship to UMBC, but for Morgan, it was just a bonus for doing something she loves.
"I learned how to swim when I was about 2 years old. I was always in swim classes with kids way older than me and I was still better than all of them," Morgan said."At this point, I knew I had a lot of talent for the sport. I started swimming competitively when I was 7. Swimming is very important in my life because it has taught me many things about hard work, determination and being a team player."
After being recruited by 15 schools across the United States, Morgan narrowed her choice down to three schools before finally choosing UMBC.
"The recruiting process was very stressful. UMBC was my last trip and I knew the minute I saw the school and met the team that it was the place for me," Morgan said. "I spent the weekend at UMBC and had a blast. On Sunday night when I got home the coach called me with my scholarship offer. I talked it over with my parents and then gave him a call back to verbally commit to UMBC. When I hung up the phone my whole family started crying because we were so happy."
College can be a fun and crazy time for new freshmen, especially when balancing school work, a social life and sports.
"I am looking forward to swimming for a Division 1 college because of all the perks I get as a student athlete," Morgan said."I get to choose my classes before regular students, I receive free tutoring and athletes at UMBC have a close relationship with teachers because they understand what all we have to do. Swimming in college and majoring pre-med will be tough, but I will have the support from my teammates to help get me through it."
Even though there were other opportunities besides UMBC, Morgan is happy with her decision to attend school there.
"One of my most favorite things about UMBC was the location. The school is in the suburbs of Baltimore, Maryland. It is so beautiful there and they actually get four seasons, unlike here in Texas. I also have a lot of opportunity at this school due to the location. I am 10 minutes from downtown Baltimore and 30 minutes from DC. These cities have a lot to offer and I can get amazing internships as well. Being so far from home is going to be tough, but I think it will help teach me how to handle things on my own in the real world as an adult."
About the Writer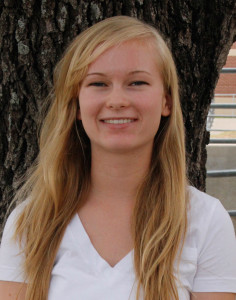 Shannon Steidel, Editor In Chief
Hi I'm Shannon, I'm a senior and Editor-In-chief this year. I'm a member of the Color Guard and in my free time I like to read, listen to music, and spend...