Rating of the 2021 Met Gala Looks
The 2021 Met Gala took place on Sept. 13 at the Metropolitan Museum of Art in New York City. The theme of the event was "In America: A Lexicon of Fashion." Celebrities were styled according to the theme by famous designers, and while some did a great job, many failed to impress. Below is a list of the best and worst looks at the 2021 Met Gala.
Best: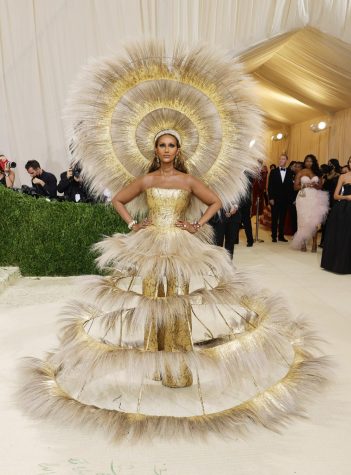 Image by Getty Images
Iman (Dolce & Gabbana x Harris Reed)
Iman's gold and tan ensemble was gorgeous and perfectly mirrored America's independence. The shiny gold accents balanced out the more drab beige pieces of the outfit. Iman's chunky jewelry matched the look very well and her dark, smokey eye makeup juxtaposed the glowy shine of her clothing. The large headpiece Iman wore complimented her outfit and added a regality to the look. Overall, Iman looked stunning and her designers did a fabulous job.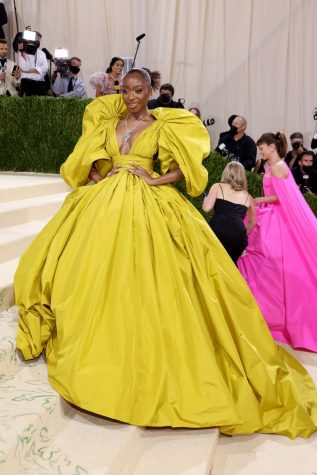 Image by Getty Images
     2. Normani (Valentino and Lorraine Schwartz jewelry)
Normani's dark yellow ball gown was a beautiful homage to Black American culture and fashion. Normani stated that her interpretation of the Met Gala's theme was "Black real excellence" which she showcased by choosing a color that stood out on darker skin tones. Normani embraced a princess look with a dress that had a more fitted section on her torso, and puffed sleeves with a billowing skirt. Normani's look was phenomenal and her dress hit the mark on the theme as well.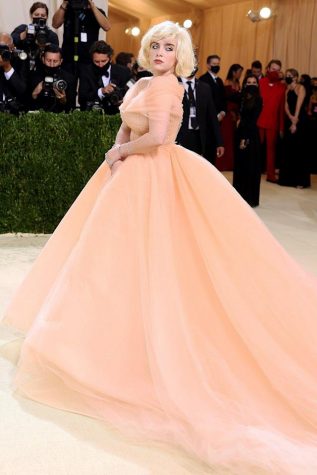 Image by WireImage
     3. Billie Eilish (Oscar de la Renta and Cartier jewelry)
In a fabulous peach-pink gown, Billie Eilish embraced the classic Old Hollywood look at the Met Gala. Her perfectly styled hair matched the aesthetic of her dress and showed off the influence of Marilyn Monroe and other actresses on America's fashion trends.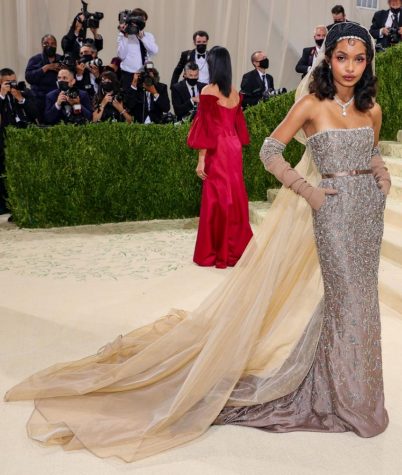 Image by Getty Images
     4. Yara Shahidi (Christane Dior and Cartier jewelry)
Yara Shahidi's Met Gala look was inspired by Josephine Baker, an influential icon of American Black culture from the 1920s. Shahidi wore a dress and headpiece that mirrored Baker's typical look and raised it to new heights. Shahidi looked like a goddess and her look fit the theme as well.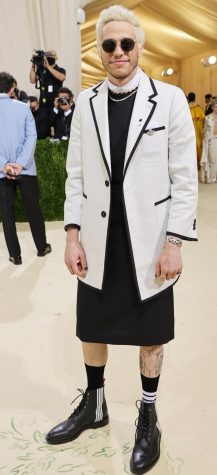 Image by Getty Images
     5. Pete Davidson (Thom Browne and Silhouette eyewear)
Pete Davidson's outfit was a great example of American fashion beginning to defy gender norms. He wore a dress with a suit jacket, illustrating the fluidity between femininity and masculinity. His black and white look was carried through all the way from his bleached hair to his striped combat boots. His jewelry accentuated the androgynous style of the look and carried out the vision of evolving American fashion.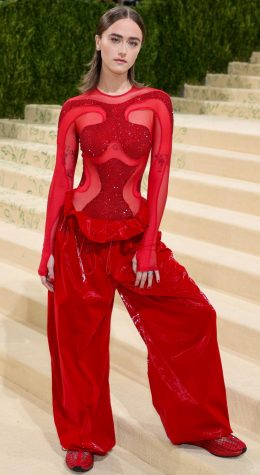 Image by Getty Images
     6. Ella Emhoff (Adidas by Stella McCartney and Cartier jewelry)
Ella Emhoff's America-red ensemble was a beautiful blend of fabrics and style. From the semi-sheer bodysuit studded with gemstones, to the shiny, wide-legged pants, Emhoff's look showed off her patriotism and glamorous, yet comfortable style. From her slicked back hair to her bright red sneakers, Emhoff's outfit showcased her personal style while simultaneously exhibiting American style.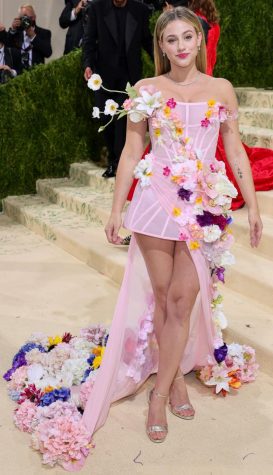 Image by Getty Images
     7. Lili Reinhart (Christian Siriano and Jimmy Choo shoes)
Lili Reinhart wore a beautiful pink dress with a train covered in flowers. The floral accents were Reinhart's way of embracing the American theme of the Met Gala. Each flower represented one of the 50 U.S. states. With all 50 state flowers on her gown, Reinhart rocked the gala. Her minimal makeup and classic hairstyle only drew more attention to her dress. Reinhart understood the theme and put her own spin on looking patriotic.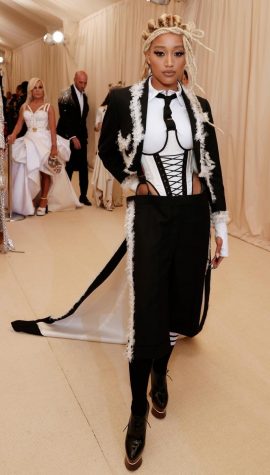 Image by Getty Images
     8. Amandla Stenberg (Thom Browne)
Amandla Stenberg opted for a black and white androgenous look to showcase their commitment to the Black and queer communities. Stenberg's hairstyle was an ode to durags, a traditional Black head covering made of fabric that serves a practical and cultural purpose. Stenberg followed the Met Gala's theme by paying homage to the Black American community.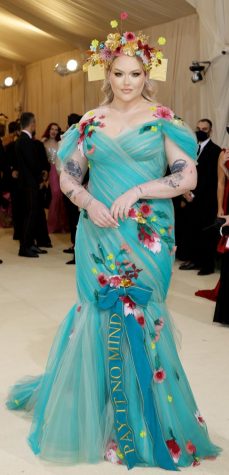 Image by Getty Images
     9. Nikkie de Jager (Edwin Oudshoorn)
Nikkie de Jager – also known as NikkieTutorials on YouTube – wore a spectacular blue mermaid-style dress to the Met Gala.  It was studded with flowers and Nikkie wore a floral headpiece to complete the look. With a sash on the dress that read, "pay it no mind," Nikkie paid homage to Marsha P. Johnson. Johnson was an American icon and a transgender Black woman who played a key part in the Stonewall riots. Nikkie's look was a beautiful way to pay tribute to Johnson and keep with the theme of American fashion.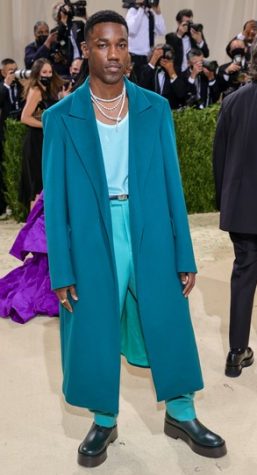 Image by Just Jared
     10. Giveon (Valentino and Bulgari jewelry)
Giveon wore an all blue outfit complete with ornate jewelry. Giveon's look was inspired by American fashion icon Ralph Lauren. According to an interview he gave to VMAN, Giveon pulled ideas from Lauren because he makes "things that are timeless" and "more than just trendy." Giveon's debut Met Gala look followed the theme while also presenting a fresh new look. 
Worst: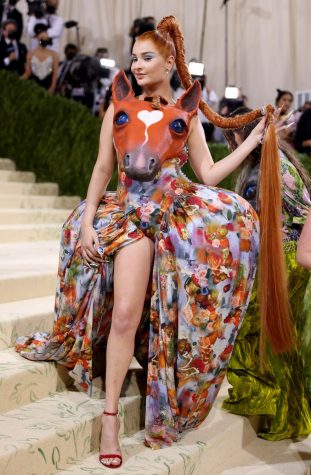 Image by Getty Images
Kim Petras (Collina Strada)
While Kim Petras' Met Gala look definitely hit the mark for the theme of the night, it did it in a terrible way. From the flashy floral print to the atrocious horse head, Petras' look was downright horrendous. Her over the top hair extensions and shoes that didn't match just contributed to the horrible effect. Overall, Petras' attempt at a fashionable dress failed miserably.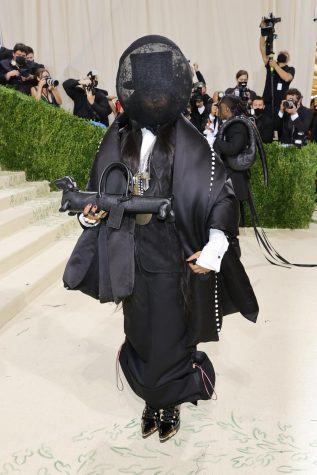 Image by Getty Images
     2. Erykah Badu (Thom Browne)
Erykah Badu's outfit looked like a layered catastrophe. She wore two hats and a headpiece, multiple tops, and lots of jewelry. She also carried a weiner dog-shaped purse and wore pointed boots. Her connection to the theme was that she decided to wear what she wanted and said that American fashion is being "anything we want to be." All of her clothing items and accessories clashed to make a horrible monotone look.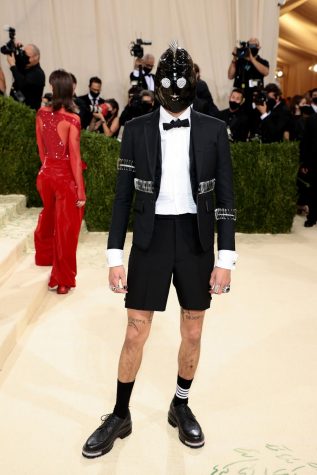 Image by Getty Images
     3. Evan Mock (Thom Browne and Lorraine Schwartz jewelry)
Evan Mock's extreme look was a bit over the top. The suit jacket studded with safety pins was an interesting choice, but paired with the spiked leather mask, the look did not scream "America." The black and white ensemble didn't match the theme of the event and made for a creepy, if unique, outfit.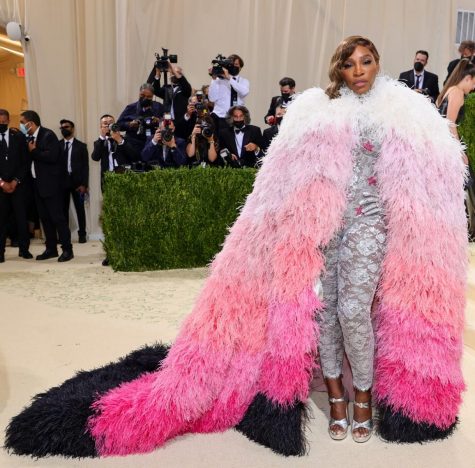 Image by Getty Images
     4. Serena Williams (Gucci)
Serena Williams arrived at the Met Gala in a lace bodysuit with pink star decals under a huge, feathery cape. Williams' outfit had a strange color scheme and the individual pieces of the look didn't go together. According to Williams' interview with E! News, the ensemble was inspired by superheroes. While the look was definitely a statement piece, it didn't match the theme at all.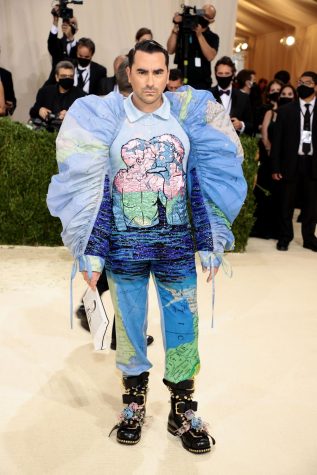 Image by Getty Images
     5. Dan Levy (Loewe and Cartier jewelry)
Dan Levy's uniquely shaped Met Gala outfit featured 1940s art by David Wojnarowicz, an LGBTQIA+ activist and artist. Levy's look was meant to give visibility to queer people. While Levy's message might be great, his follow through and connection to the theme were lacking.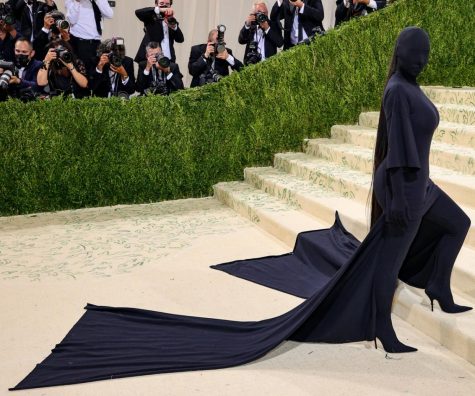 Image by Getty Images
     6. Kim Kardashian (Balenciaga)
Kim Kardashian's all black ensemble made her look like Peter Pan's shadow, not an embodiment of American fashion. While she claimed that her outfit was American due to the fact that she was wearing a t-shirt dress, Kardashian's Met Gala look confused many people and definitely left a lot to be desired.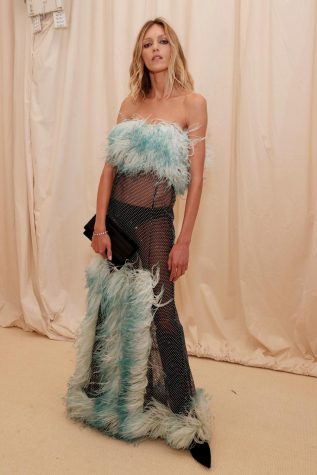 Image by Getty Images
     7. Anja Rubik (Saint Laurent)
Anja Rubik's sheer mesh dress was partially covered by blue fluffy panels. The dress looked very unfinished and did not fit the theme of American fashion whatsoever.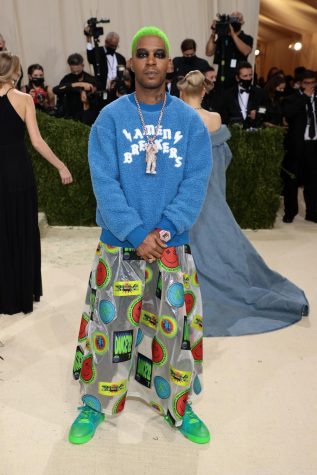 Image by Getty Images
     8. Kid Cudi (Louis Vuitton)
Kid Cudi's strange look was apparently inspired by emo fashion. While the emo style is evident in Cudi's eye makeup, the rest of his outfit does not fit into that category. His brightly colored look with a large, human-shaped pendant did not satisfy the theme of the Met Gala.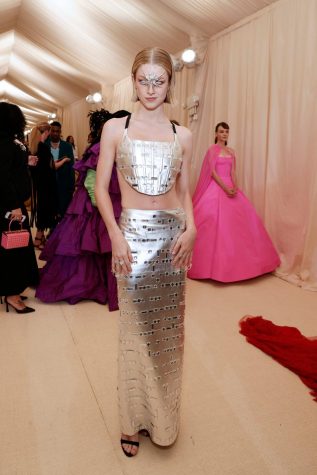 Image by Getty Images
     9. Hunter Schafer (Prada)
Hunter Schafer's metallic outfit was slightly unnerving, with white contacts and silver headpiece contributing to the creepy style of the look. The alien-like ensemble was a very bold choice for the gala, however, Hunter's connection to the theme of the night was not apparent.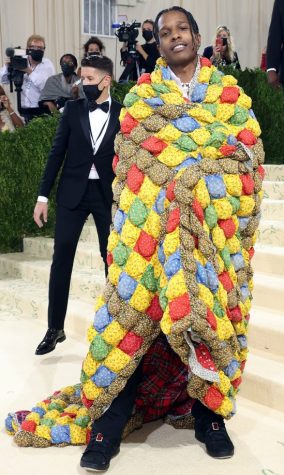 Image by WireImage
     10. A$AP Rocky (ERL)
A$AP Rocky's outfit was definitely one of a kind, but it did just look like a blanket. His weird quilt covered a basic black tuxedo. It was very strange compared to other celebrities' looks and didn't follow the theme of the 2021 Met Gala.
Leave a Comment
About the Contributor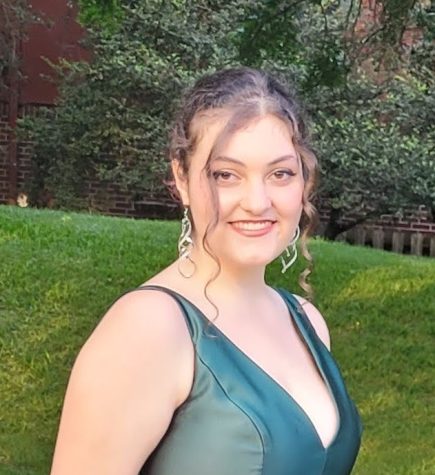 Gabby Cohen, Editor In Chief
Hello, I'm Gabby! Carter and I are Co-Editors In Chief for the newspaper this year. I am a senior and I have been involved with journalism for all of high...