Heavenly Recipes for the Holiday Season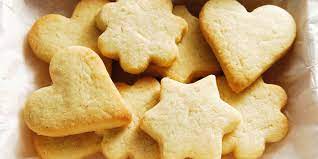 Shortbread Cookie Recipe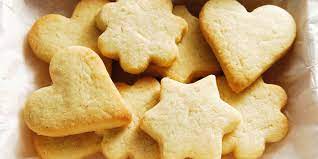 Photo credit: Getty Images 
An easy and classic recipe just in time for the holidays, the preparation time for these delicious cookies is about 60 minutes for one or two sheets of cookies. Things that are important to remember when making these cookies are to not overwork the dough and to remember to chill the cookies according to the recipe. 
Ingredients:
2 cups of all-purpose flour

1 cup powdered sugar

¾ teaspoon of kosher salt 

1 cup of unsalted butter, room temperature and cut into pieces 
Instructions:
Preheat the oven to 325 degrees and line two to three baking sheets with parchment paper.

Put all the ingredients in a food processor and process for 30-60 seconds. If you don't have a food processor, mix it with your hands while trying to mix it lightly. Stop when the mixture can be packed into one mass into the bowl. If it's not doing that, continue to process the dough in 10-second increments until it does. 

Knead the dough together lightly until it's in a square. If the dough is still crumbly, knead the dough until it sticks together or put it back in the processor for 10 seconds. 

Chill the dough for 10 to 20 minutes so it's cool but still pliable.

Roll the dough out on a well floured surface so it's about ½ to ¼ inches thick and either cut out squares and rectangles, or use a cookie cutter.

Transfer the cookies to a parchment lined baking sheet. Chill the cookies on the sheet pans in the refrigerator for 15 minutes or until the cookies are solid to the touch.

Transfer the cookies in batches to other baking sheets, leaving about ½ inch between each cookie.

Bake the cookies one pan at a time for 18-23 minutes, or until the cookies are dry to the touch and the bottoms just begin to turn golden.

Remove the cookies from the oven and cool them before transferring them to a container for storage. These cookies can be stored in an airtight container for several days before they go bad. Enjoy!
Peppermint Mocha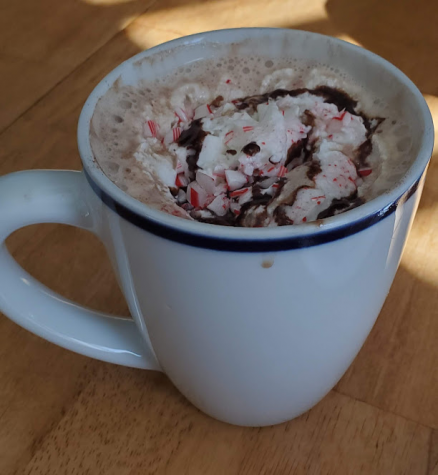 Photo credit: Gabby Cohen
This festive drink is a great and cheaper alternative to Starbucks' seasonal drinks. The preparation takes under five minutes and the drink is guaranteed to make you feel the holiday spirit. An optional step is to use a large candy cane instead of a spoon to stir the drink. This will leave even more peppermint flavor.
Ingredients:
1 mug

hot coffee

milk

3 mini candy canes, crushed

2 filled spoonfuls of Nesquik chocolate powder or 1 hot chocolate packet

whipped cream

chocolate syrup
Instructions:
Fill the mug 3/4 with coffee and 1/3 with milk.

Put 2 crushed mini candy canes in the mug. 

Heat the mug up for one minute in the microwave, then stir well. 

Add the chocolate powder and stir again.

Add whipped cream and chocolate syrup on top. 

Sprinkle on the last crushed mini candy cane. Enjoy!
Sufganiyot (Jelly Donuts)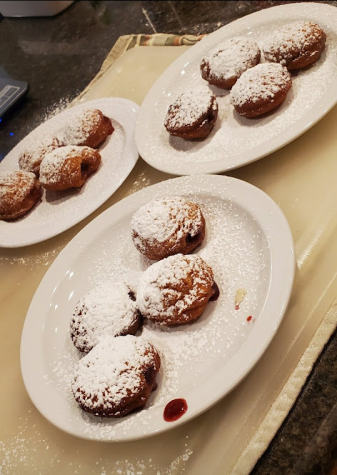 Photo credit: Gabby Cohen
This traditional Hanukkah treat is a delicious dessert meant to symbolize the importance of oil in the Hanukkah story. This recipe takes about 25 minutes to complete and makes eight to ten donuts. Usually, these donuts are filled with jelly or Nutella, but any filling will do!
Ingredients:
1 roll of biscuit dough

½ cup fillings of choice

powdered sugar

vegatable oil

1 pan with a three-inch lip

1 thermometer

1 toothpick

1 syringe or squeeze bottle for each type of filling
Instructions:
Let the dough soften at room temperature for 20 minutes.

Roll out the dough until it is about ½ and inch thick.

Using a cup with a floured rim, cut out as many circles as you can. Re-roll out the scrap dough to make more circles. Repeat until there isn't enough dough to make a full circle.

Fill a pot with two inches of oil and heat it to 360 degrees fahrenheit.  Try to keep the temperature of the oil between 360 and 375 degrees by checking frequently with a thermometer.

Fry the circles of dough in the pan for about 30 seconds, then flip. Continue this until both sides of the donuts are slightly darker than golden brown. Test your first donut by tearing it apart to make sure it isn't doughy in the middle. 

After frying, put the donuts on a paper towel and pat off any excess grease. Make a hole in each donut using a toothpick. Poke the donuts through the side and hollow out a small tunnel that does not reach through the entire donut.

Insert the fillings using the squeeze bottle or syringe. If the filling is getting stuck in the syringe or squeeze bottle, heat it up for 30 seconds in the microwave. 

Sprinkle them with powdered sugar. Enjoy!
Fudgy Bonbons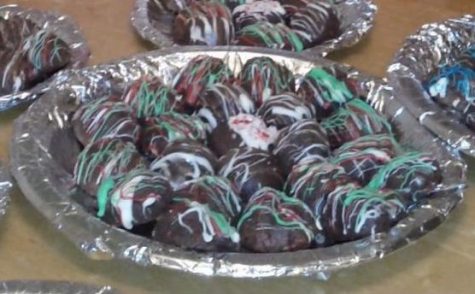 Photo credit: Joe Cohen
This simple recipe is a great idea for a way to bond with young kids. Having younger family members unwrap the chocolate kisses and help to drizzle the bonbons with white chocolate is a great way to include them in the holiday baking fun. 
Ingredients:
2 cups of semi sweet chocolate chips

¼ cup of butter

1 ¾ cups of sweetened condensed milk

2 cups of flour

1 tsp. of vanilla extract

60 hershey kisses and/or hugs of various flavors

¼ cup of white chocolate chips/candy melts

1 tsp. of shortening or vegetable oil

food coloring of your choice

medium saucepan

small saucepan

medium bowl

1 clean tsp

1-3 cookie sheets
Instructions:
Preheat the oven to 350 degrees and unwrap all Hershey's kisses and hugs.

In the medium pan, combine semi sweet chocolate chips and the butter. Cook over low heat until chips are melted and smooth, stirring frequently.

Add sweetened condensed milk and mix well.

In the bowl, combine the flour, chocolate mixture and vanilla extract. Mix well.

Use the clean teaspoon to scoop out teaspoons of dough. Wrap a teaspoon of dough around each kiss and hug, covering them completely.

Place the bonbons one inch apart on ungreased cookie sheets.

Bake them for 6-8 minutes. Do not overbake them. They will come out shiny and soft. Move them off the hot pans and let them harden as they cool.

In the small pan, mix the white chocolate and shortening/vegetable oil. Cook the mixture over low heat until it's melted and smooth, stirring often.

Separate the white chocolate mixture into as many small bowls as the number of colors you want to make. Put a few drops of food coloring into each bowl of white chocolate and mix. Add more food coloring until the desired color is found.

Drizzle the white chocolate mixtures over the bonbons as desired. Cool the bonbons in a sealed container.
Leave a Comment
About the Contributor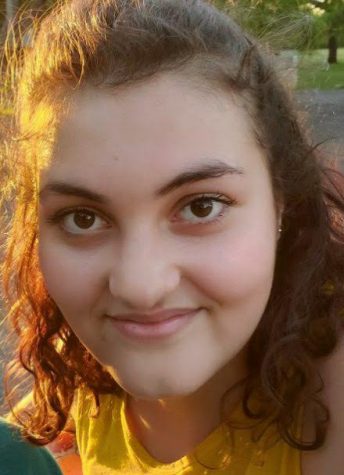 Gabby Cohen, Editor In Chief
This is my first year on the Trailblazer staff, but I helped with copy editing last year. I am the Life and Arts editior and Copy editor for the newspaper...