Choir Department Makes History at All-State Competition
For the first time in McNeil history, three students advanced to make the Texas All-State choir this year. Two weeks ago, sophomore Elaina Spiering, junior Clarissa Burrow and senior Lucas Salas attended the All-State choir convention in San Antonio. The All-State students were at the convention Feb. 9-12, singing with the top choral singers of Texas and working with a famous clinician to perform to an audience of around 20 thousand people. 
Spiering competed in All-State for the first time in 2020. Though she made it to the last round of auditions last year, she didn't make the final choir until this year.
"It's really cool to think that around 30 thousand people auditioned, and I'm one of the 300 that made it," Spiering said. "It's rewarding, but also fun because I got to have the whole experience of the convention, and hear how the whole choir sounded."
Like Spiering, Burrow also made it into the All-State treble choir. The experience was brand new for the both of them.
"It was shocking," Burrow said. "In previous years, I've only made it as far as pre-area round three of four. This year I got to sing with the best singers in the state. I don't think I will experience that again. It was amazing."
Though All-State is a competition that challenges students individually, everyone needs some help occasionally. Many students have the privilege of a voice coach to help them through the All-State competition.
"My voice teacher, Mrs. Amy Zeller has helped me the most in this process," Burrow said. "She has pushed me to be better and she has taught me how to sing without changing my voice."
While some singers had personal voice teachers to assist them, others relied primarily on their school choir teachers.
"Mrs. Burwinkle and Mrs. Williams, my choir directors, have helped me the most in this process," Spiering said. "They helped me learn and understand challenging music. They also helped guide me throughout the convention so that I could have fun, as well as be prepared."
Being in an advanced choir at McNeil comes with some responsibilities. One of these is the requirement of participating in an out of school choral competition.
"I decided to do All-State this year because we are required to do either that or Solo and Ensemble," Burrow said. "I originally didn't want to do All-State that badly, but seeing the huge All-State patches on people's lettermans just drove me forward. I also decided to try my best because people told me I couldn't, so I wanted to prove them wrong."
A competitive choral singer must have a set of tools to be successful. Though some of those may be things like the ability to read music or experience with foreign languages, others tools may be less traditional.
"I think having the right attitude was a big help," Burrow said. "Sometimes caring too much about something can come back to bite you, but I wasn't stressing myself out about it. That way I could just be there to enjoy the music."
The appeal of being in choir can vary from student to student. Students may be drawn to the choir department due to the challenge of competition or the ability to be with friends. Regardless of why, anyone who finds themselves in the choir department has a personal reason for joining the program.
"Choir to me is something new," Burrow said. "No matter how long I have been singing or reading music, I will always find something new. I usually get bored if things get boring or repetitive, but music always surprises me. Choir and music are like mysteries to me, and I love that."
Leave a Comment
About the Contributor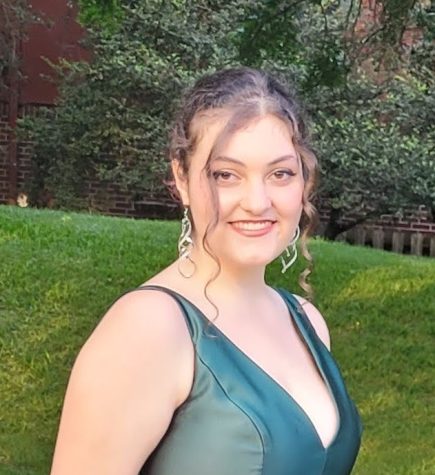 Gabby Cohen, Editor In Chief
Hello, I'm Gabby! Carter and I are Co-Editors In Chief for the newspaper this year. I am a senior and I have been involved with journalism for all of high...