Keep the Bugs Away With Natural, Do-It-Yourself Approach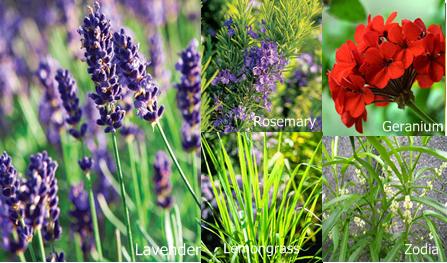 Ants, flies, mosquitoes and many other insects can keep summer from being enjoyable. While there are many ways to get rid of the pests, using harmful chemicals can damage one's health and environment. Alternative safe and clean methods can be explored and practiced. These insects, which can be considered pests, can be taken care of with some of these natural and easy repellent ideas.
First of all, make sure there is no standing water around because this can attract some bugs such as mosquitoes and gnats. Not only does standing water attract them, but it introduces a breeding spot for them. Standing water can be found in gutters, garbage, pools, water bowls (for pets) and bird baths.
Trash should be properly stored and sealed away.
Remove all yard waste to discourage breeding spots. Keep grass and weeds cut short to prevent dew to providing a breeding ground for mosquitoes.
Use a ceiling or oscillating fan to make it difficult for bugs to fly in to a building or on to you.
Citronella, cedar, lemongrass, thyme, horsemint, marigolds, ageratum and catnip plants all help to repel mosquitoes. Plants such as mint, sweet basil and bay leaves will keep ants away as well. Having a herb garden would easily or greatly reduce the number of pests wandering around.
Place a bowl consisting of a mixture of apple cider vinegar and laundry detergent or just white wine out to attract and drown bugs such as fruit flies.
Making a trap out of a bottle is an easy d.i.y. activity that will lure and diminish insects such as mosquitoes, bees and/or wasps. This webpage provides information on how to create a trap: http://www.thriftyfun.com/tf99273276.tip.html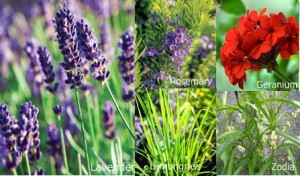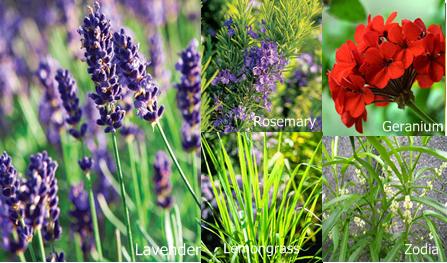 Essential oils like clove, basil, rosemary, eucalyptus, peppermint and/or cinnamon bark can keep bugs away. One natural, easy and fun do-it-yourself project that includes using oils is making candles to place inside or outside. Visit this webpage to make your own bug repellent candle: http://yoursacredcalling.com/commonscentsmom/2011/06/make-your-own-dont-bug-me-jar-lantern/
Washing with a soap that is based with essential oils will also help keep bugs away. Avoid using fragranced products such as perfumes and scents, which can also be found in shampoos, body sprays and/or deodorants. Heavily-fragranced products can attract bugs.
Using a bug repellent will always have some justice in discouraging bugs to come close. Most natural repellents are always a safer choice than commercial ones which are laced with chemicals harmful to the environment and body. Either you can make your own repellent or buy one. Here are some options on some natural brands and how to's to choose from:
Zoe Organics Insect Repellent: http://www.oandncollective.com/zoe-organicsinsectrepellent
Natural Insect Repellant Spray: http://www.jason-personalcare.com/product/078522432227
Bite Blocker Natural Insect Repellent Spray: http://www.homs.com/biteblocker%C2%AE.html
Badger Anti-Bug Shake & Spray: http://www.badgerbalm.com/p-465-anti-bug-shake-spray.aspx
How to's: http://wellnessmama.com/2565/homemade-natural-bug-spray-recipes-that-work/
About the Contributor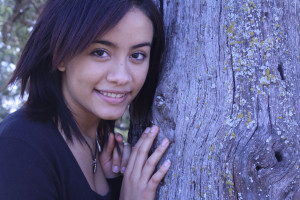 Nicole Meeks, --
Hello there, my name is Nicole Meeks. I'm currently a junior at McNeil High School. This is my first year participating in newspaper production, as a reporter....