Excelling On and Off the Field
Senior awarded Scholar Athlete of the Week
Senior and varsity football player Zach Epstein was recognized as Time Warner Cable News' Scholar Athlete of the Week for the week of April 25. The TWC News Scholar Athlete program aims to recognize seniors who exhibit skill and dedication in both academics and athletics.
"I thought it was a great honor to be on the TV and everything," Epstein said. "I think it's just good for my coaches to be able to say to their peers, you know, we had a scholar athlete."
The athletes are chosen by nomination, based on their athletic, academic, extracurricular and community involvement and a letter of recommendation. Epstein was nominated by football coach Michael Reynolds.
"Zach is a leader by example," Reynolds said. "He comes to school every day, turns in every assignment, and has a great attitude. People want to be around, and follow, positive people."
He was one of 25 other winners. Each gets a two to three minute feature on TWC News and a plaque honoring them as a TWC News Scholar Athlete.
"I found out [I won] two weeks before the interview," Epstein said. "They emailed me and we set up the appointment. Being interviewed was kind of awkward, but it was fine. It felt different, because I'm not used to being in front of a camera."
Epstein said that he doesn't have Time Warner Cable, so he watched online.
"I think everyone watched it before I did, because I felt too awkward looking at myself," Epstein said. "But my parents were very proud. They were posting on Facebook, just making sure that everybody knew I was on TV."
In the fall, Epstein will attend the University of Texas. He is set to study social work but is hoping to transfer to business or communications.
"Zach needs to remember to never be satisfied," Reynolds said. "This is not a stopping point. This is a spring board. Stay on the track you are on and outwork everyone in your path."
The link to view the segment is: http://www.twcnews.com/tx/austin/news/2016/04/25/scholar-athlete–zach-epstein.html.
About the Writer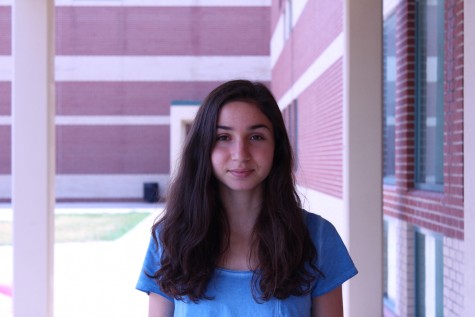 Larissa Herold, Editor-in-Chief
My name is Larissa Herold. I'm a senior and I'm looking forward to my second and last year at McNeil High School. This year, I'm excited to be the sports...