Variety is the Spice of Life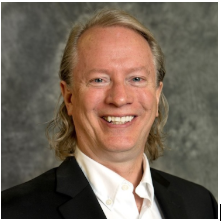 From touring musician to cycling guide to human resource manager,  Mark Emry's newest undertaking is a computer science teacher.
"I like the saying, 'Variety is the spice of life,'" Emry said. "The switches between my careers isn't actually unusual. I like to switch things up and keep my life interesting."
With this philosophy in mind, Emry has worked some different jobs. One such occupation was performing contract work for the company Dark Enterprises, a holding center for discrete investigation in legal, civil and corporate matters.
"Most of the contracts come from the National Security Agency…yes, the spies," Emry said. "Although I cannot reveal much about my job, my role in the company was mostly educational."
Another job Emry worked was as a  human resource manager for a retail chain store while vacationing in Florida. It was at this time that the idea of teaching appealed to him.
"It was there that I realized I wanted to change the future in some way," Emry said. "I wanted to leave a mark. The best way to do that would be with kids."
Emry's family also influenced his decision to take up teaching.
"My mother was a teacher, two of my older brothers and my younger sister were also teachers," Emry said. "I guess it's just in my DNA."
This year is Emry's 27th year of teaching, but his first year teaching at McNeil. 
"One of the most interesting things I've had to get used to is a block schedule," Emry said. "I came from a typical class schedule where each class met each day for 50 minutes. The block schedule has made it more difficult for me to learn students' names. Either that or I'm getting old." 
Emry believes that meaningful learning is relevant to students' lives, and strives to lead an engaging student-centered classroom.
"The students at McNeil have a sense of community and are very interested in learning and wanting to achieve," Emry said. "Although not different from other schools at which I've taught, I'd say the urgency to learn here is greater."
Emry continues to incorporate skills he has learned from his different careers in a way that will prepare students not only academically, but in life as well.
"I enjoy seeing the light bulb go off in a student's head, and the immediate feedback teachers receive from their classes is unique in the world of work," Emry said.
About the Writer
Shreya Rajavelu, Reporter
Hey! My name is Shreya Rajavelu and I'm a sophomore reporter. I'm passionate about writing and music and am part of the varsity choir 'Chambers' ...