45 Year Promise Finally Fulfilled
Finally, the day Alden Balmer had eagerly anticipated and prepared for, arrived. As he approached the starting mark of the Boston Marathon, he remembered the promise he made to his grandfather 45 years ago: to one day run a long and arduous race. He kept that promise with him for 4 hours and 32 minutes. As he reached the finish line, he raised his hands and defied not just months of preparation or hard work, but a life-long dream.  
Physics teacher Alden Balmer ran the Boston Marathon on Oct. 11. He participated in the event to honor his late grandfather, completing a promise he had made to him when he was 11-years-old.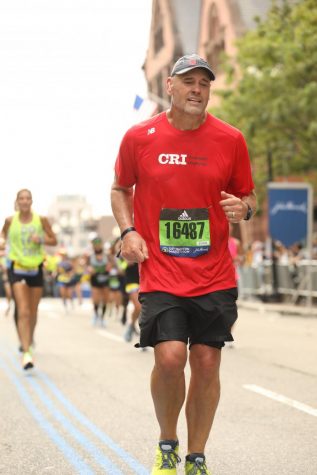 "In August of 1976, I spent two weeks with my grandfather watching the Summer Olympics together," Balmer said. "There was one event that captivated our attention more than all the others, and it was the marathon. We were both amazed at the courage and perseverance it took for those athletes to run for 26.2 miles. So after the race, I turned to my grandfather and said, 'I am going to run that race someday.' Two weeks after watching the Olympics with my grandfather, he passed away from lung cancer. So, running that marathon and keeping my promise to him has always been something that I have carried with me my whole life. And when I started running seriously at 49, I knew it was now or never. It was time to keep my promise." 
Prior to running the Boston Marathon, Balmer had participated in other races containing various distances and different locations. 
"Including Boston, I have now run 11 marathons," Balmer said. "They say that less than 1% of 1% of all people will ever run a marathon, and even fewer will run more than one marathon. So, I am very proud that I have been able to do it 11 times. Each marathon lives as a story in my head that I get to play back over, and over again, whenever I want to relive each moment. The marathon is not just a run, but the most incredible journey in your life that will change you  forever."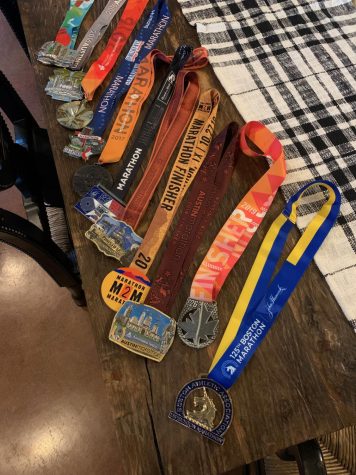 Apart from being a runner and teacher, Balmer is also an innovator and entrepreneur. In the past, he's contributed to various companies and currently runs one outside of school that specializes in mousetrap car racers. 
"I have owned several companies that I have since sold, but the one I have owned the longest is 'Doc Fizzix Products,'" Balmer said. "I have owned and been running that company for 26 years now. Other than teaching physics at McNeil, I was also a research assistant at the University of Texas for a couple years, and then an instructor. The thing I enjoy the most about physics is the amazing story that I get to tell about the universe we all live in. Passing on knowledge is what separates our species from all others, and it is the greatest gift that we can give."
Balmer uses his physics expertise to accomplish many things he's proud of and passionate about. He is an author of a children's book series called 'Doc Fizzix,' which helps teach young readers about the basics of physics.
"As far back as I can remember, I have always tried to write down my thoughts and my ideas so I would not forget them," Balmer said. "I have always been fascinated by finding the right combination of words, put together in just the right way, to paint a picture or tell a beautiful story. Writing has always been my own form of therapy. It helps me keep track of what is going on in my mind, so that my thoughts are not lost in time."
Along with being an educator, entrepreneur and innovator, Balmer was also one of the first teachers hired at McNeil. Today, he is one of the five remaining founding teachers still working on campus.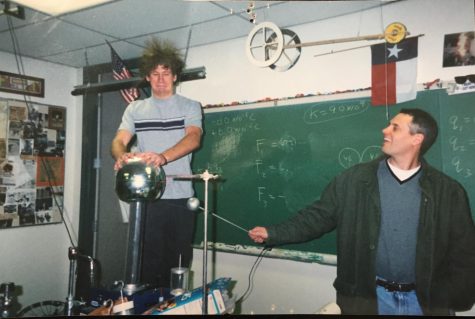 "I was in a small group of teachers that stood out front when Mr. Veach, our first principal, unlocked and opened the doors for the very first time," Balmer said. "I saw the very first students enter the building. McNeil has always been a special place for me and I would never imagine working anywhere else."
Balmer now adds being a runner to his list of accomplishments and successes.
"I always tell people that I am not a runner, but I guess after 11 marathons, I can not really say that anymore," Balmer said. "I have lived my dream by running the Boston Marathon, but at some point you have to let go and move on. That is where I am at today, I am ready to move on to the next journey of my life."
If interested in seeing the reaction of staff members when Balmer crossed the finish line, click here. 
Video by Automotive Technology teacher Ryan Arnold
Leave a Comment