College Decisions and Advice from Seniors
After months of filling out college applications, seniors are finally receiving their decisions. There's a feeling of accomplishment and excitement for those who were accepted into their desired college or major. However, not everyone gets into their desired college and new plans must be made. Then comes another difficult hurdle: choosing a college. 
Seniors are officially deciding on colleges for the fall of 2022 and making the necessary preparations for this next big step.
"I'll be attending UT Austin in the fall and I chose this college because I really like the campus," senior Adrita Raychaudhuri said. "I think downtown Austin is a really nice place, and they also have a lot of good community resources that I really enjoyed when I visited campus. I'm going to school as an Electrical and Computer Engineering major because I think it's a really important field as artificial intelligence and technology become a booming industry."
Similar to Raychaudhuri, others highly prioritized a good campus location and the future of their employment in a well-paying field. These same students also thought about offered financial aid and even followed their parents' footsteps career-wise.
"I decided on UT Dallas and I'm planning on majoring in finance," senior Nakshatraa Kurmude said. "I chose that college because the Naveen Jindal Business School is a really good school for management, plus it's in state and it's providing me lots of scholarships. I think I'm more attracted to finance because my dad is also in finance, so I have had a first hand experience of how the field is."
Even though many students already committed to a college, others are still thinking about where they would like to go. Some seniors like Hope Matteson, are thinking about the best school for their intended major and the available resources to practice their interests.
"I haven't chosen a college yet, but right now I'm in between three schools," Matteson said. "I'm looking at A&M Galveston, University of Oklahoma and Northeastern. The one that I think I'm going to end up going with is A&M Galveston because it has everything for my major and it's in a really nice location right on the ocean." 
Based on their knowledge of applying to college, seniors have several suggestions to make for those who will eventually do so. 
"I would recommend for students applying to college in the future to always meet their priority deadlines," Kurmude said. "That way, they can get their decisions by the end of January or beginning of February. This is really helpful in terms of having time to plan what to do next."
Others agree that timing is extremely important when applying and preparing for college. They also believe that an essay's content is one of the factors future applicants should put significant time into. 
"I would suggest that when you're writing your essays, to play up the major you want to choose," Matteson said. "So if you're applying to a science related major, make sure to say that you've always loved science and want to change the world. Basically, play that up because colleges really like that."
Leave a Comment
About the Contributor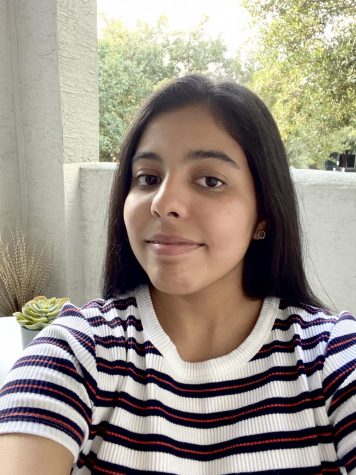 Laura Rivera, News and Life & Arts Editor
Hi, I'm Laura Rivera and I'm a senior this year. This is my third year working for the Trailblazer, but fourth as part of the journalism department....