Q&A with Principal Mack Eagleton
Where did you grow up?
"I grew up in the Houston area, right outside the city lines in a town called Crosby, Texas. It's a small town that's actually grown a lot. I've basically lived in Crosby my whole life. I went to Crosby schools and I graduated from Crosby High School."
Where did you attend college?
"I attended the University of St. Thomas in Houston, Texas for my bachelor's degree. I got a bachelor's degree in biology. I was a biology pre-med major at that time. I was planning to be an OB-GYN. I was going to deliver babies and work with high risk pregnancies."
How did you end up in education?
"Let me just back up in the story a little bit. In middle school, I decided I wanted to be a physician and my mind did not change all the way through college. I always had this vision of me being a person who was going to assist in the development of a child. Human development still amazes me to this day. I had this burning desire to play an integral role in the development of that individual, specifically dealing with disadvantageous issues. When I started subbing, I started feeling this sense of redirection. I started to realize that was my pursuit, this is my purpose. I had that vision of me in this operating room, interacting with the parents, the family members, and leading my team of people. I realized that my vision was correct, but the venue was wrong."
What are your main objectives for this school year?
"First of all, one of my major goals, especially because I'm new to this learning community, is building relationships with my staff and my faculty. That includes everybody from secretaries to teachers to specialists to coaches to counselors, but the most important individuals are students. Kind of stemming from that, it is certainly my endeavor to provide exceptional learning experiences and opportunities for students, so that when they leave McNeil High School as graduates, they are fully equipped with the social skills, critical thinking and analytical skills they need. Then there's the academic components of making sure that they are fully prepared to be college, career, and military ready. So that whatever every student at McNeil decides to do beyond high school, they are fully prepared to do that. And, of course, have some fun along the way."
Do you think COVID-19 is having a continued impact on education?
"If I'm gonna look at it from a negative perspective, I think COVID has had some very significant lasting impacts on families and education in general from the trauma of having covid or dealing with the grief of knowing someone who passed away from it. I think we're still dealing with some of the impacts. From an educational perspective, the adults thought we could get back to normal last year, but in some ways last year was more difficult than even the 2019-2020 school year when COVID hit. Attendance across the state was low and we were trying to come back and navigate back from virtual schooling to face-to-face. 
On the opposite side of that, I think COVID brought some opportunities for some very dynamic experiences. Sometimes, we're so accustomed to our norm, so we become very complacent. Ingenuity and innovation rarely come from a place of comfort. Typically, it comes from a place of need, sometimes desperation or change that was imposed upon us. So I think when Covid hit us, it forced education into this necessary change, that I don't know that we would have chosen. So when you're looking at the social-emotional aspect, we have more resources. I think people tend to be more sensitive to the needs of others. It's changing us. For some there's an effort to go back to "normal." I think it's necessary that we embrace how we had to change."
How would you describe your leadership style?
"My favorite leadership approach is collaborative leadership. I really believe in the statement 'we is greater than me.' So I think there's power in collective understanding and different perspectives and ideas. I like to collaborate, I like to be in places where I can solicit other people's perspectives and ideas. I also believe an effective leader has to possess the skill set to not just lead in the way they desire, but effective leadership is based upon what the people need and as a leader, you need to have the skills to differentiate that and meet the needs of the people."
What book have you read most recently?
"The Five Levels of Leadership by John Maxwell."
What's your ultimate comfort food?
"I love seafood. Anything seafood. When it comes to really bad comfort food, I like sweets, but my favorite food is probably seafood. I could eat seafood everyday. "
How do you like to unwind?
"I like shopping sometimes and I love going out to nice restaurants. I'm a foodie in that aspect, so I really like doing that. Just chilling, whether that's at the house, going out to a restaurant or traveling, those are things I really like to do in my downtime. It's necessary that I work on relaxing, because you make better decisions when you're not exhausted."
You said you watch sports. What teams do you follow?
"Houston has been my home my whole life and I'm definitely a guy who supports the home team, whether they win or lose. So I am a Houston Texans fan, a Houston Astros fan, a Rockets fan. The Astros do a lot of winning so I kind of like them. The Texans, bless their hearts, they try, but they really have not done a good job. So, I do like going to games. 
I will say, and this is going to cause a lot of controversy, but  I am a Tom Brady fan. I think the thing with him is, I have such mad respect for him to be doing what he's doing for so long, and for him to have such mastery of his skill, I think that's what really draws me to his skill set. But, yeah, I love the Tampa Bay Buccaneers."
What's your favorite part about working as a high school administrator?
"In general terms, I think the greatest value for me is being in a position to make decisions that ultimately impact kids for their betterment. Whether it's my interaction with them or building a system of some sort or being able to bring in more resources or opportunities, that's what I love the most about the position of administrator in a high school. That's the most rewarding thing for me."
Leave a Comment
About the Contributor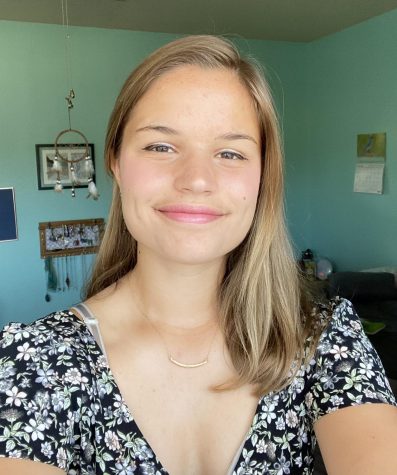 Carter Poore, Editor In Chief
Hi, I'm Carter. Other than writing and editing for the Trailblazer, I am the girls tennis team captain and I enjoy reading, watching TV, going for walks...