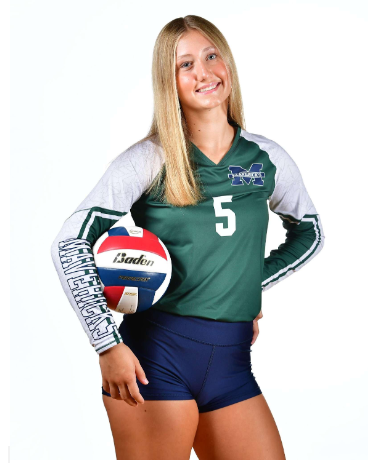 Chloe Stewart is the youngest player on our varsity volleyball team this year. Being the youngest comes with intense pressure, but Stewart is always searching for ways to stand out.
"I try to stand out by doing my job," Stewart said, "Being disciplined and knowing what to do,
I think that's when you stand out the most, smart game moves are better than ones that don't score."
Even though she is on a team full of upperclassmen, Stewart said she sees them as her family.
"I think it's hard being the youngest on the team because I'm on a team full of juniors and seniors," she said, "but I kind of like it at the same time because it kinda feels like they're family."
Story continues below advertisement
Emerson Parker and Kristen Bruce are both seniors this year who shared their love and appreciation for Stewart. Emerson enjoys playing with her and loves how much fun they have when on the court together.
"I love Chloe, she's awesome," Parker said. "I really like it when she gets a good hit because then she shakes me and I shake her, and sometimes we almost run each other over."
Bruce says even though Stewart is younger she looks up to her and thinks she is a great player.
"Stew is perfect in every way," Bruce said, "Like stew is my icon, my role model."
Even though being the youngest in a varsity sport can have an immense amount of pressure, Stewart has found her family in McNeil volleyball, and can't wait for her future.