A 10-year-old Brandon Greene bounces a battered basketball from Walmart in his mother's driveway. It glides smoothly from his left to his right as he leaps for the one-armed layup, he scores. 
A 22-year-old Brandon Greene bounces a clean, leather, NCAA branded basketball in a UTD gym, his right pinky is taped up. It bounces back up, he knows his finger is broken, and not just jammed. 
A 35-year-old Brandon Greene bounces a $75 basketball on the McNeil big gym court. It travels from his hands into a high school junior's as he barks at him to try the pick and roll again, he just wants to see him succeed.
Apart from a 3-year period working a desk job, Head Boys Basketball Coach Brandon Greene has been involved with basketball his entire life.
Story continues below advertisement
"I learned how to play from my stepdad, he was a basketball guy," Greene said. "And then my best friend growing up, his dad was a basketball guy. So you know, just the guys that were around me at the time were basketball guys and that's how I originally learned how to play."
Since he learned to play, Greene always had a ball in his hand.
"My mom bought me a basketball goal, and so I would play in the driveway," Greene said. "I would get my friends in the neighborhood and we would be out in the driveway from sun up until the street lights came on. In middle school I started playing on school teams and did some summer stuff with AAU and things like that. I was a basketball guy from the time I started."
He tried other sports, but he couldn't hit an off speed pitch and getting tackled hurt. Basketball was his sport.
"In high school, I was either studying or playing [basketball]," Greene said. "Those were the only two things. Nine times out of 10 I was either at home in a book or I was in practice or outside shooting."
Greene originally committed to play basketball for Army, but his mom didn't want him to go, so he didn't. Little did he know that after this, his support system, other than his mom, would be gone.
"When I made the decision not to go to [Army], a lot of people who felt like they helped me get that offer were upset," Greene said. "They were not happy. And so when I decided not to go to West Point, they decided that I got no more help. I went from knowing exactly what I was doing, to having no clue and only having like a month and a half to figure it out." 
Greene had no other offers after his commitment, and subsequent decommitment from Army, so he and his mom had to burn DVDs of his 6-point-averaging high school games.
"My mom and I went to one of my JV coaches, who was the computer teacher, and said, 'Hey, I need you to burn me like 10 copies of game DVDs, I need 10 highlight films,'" Greene said. "So he helped me cut, like highlight films from a couple of games. And he burned me 10 copies on DVDs, and we started shipping them out."
He heard back from four schools: Trinity, St. Edwards, Case Western Reserve and the University of Texas at Dallas. Two were too small and one was too cold, the only one that felt comfortable was UTD.
"I love the school," Greene said.
"
"When I played with the guys, just something about it felt right. It just felt like that's where I needed to be."
— Greene
Greene saw something in UTD, and UTD saw something in Greene. 
"They saw that even though I was small, they thought I was going to keep growing and my body was going to fill out, which it did," Greene said. "And then they thought I was smart, and that I could figure out what they were doing. Honestly, they took a chance."
That chance was worth it. Greene played in every game he dressed out for.
"I loved playing at UTD, playing at UTD was what I needed," Greene said. "I think I started off expecting more than I deserved, and then I ended up realizing I [was] only going to get what I worked for."
He got what he worked for, as he still holds the record for the most games played at UTD, and is one of the 11 players to score over 1,000 points at UTD.
"I thought I was good enough to go pro, and I had a couple of people tell me I might have been good enough to go pro," Greene said. "[But,] I broke my hand my senior year."
The afternoon he broke it, he thought it was only jammed. Three hours later, he was being fitted for a cast.
"It was frustrating in the sense of we were really good the year before, I was playing really well at the time and it was my senior year," Greene said. "So frustrating is probably not even the right word to describe it. I thought that's how I was ending my college career. It was like everything I knew stopped, very quickly."
Greene wore a cast for 10 weeks, 10 weeks with no ball in his hand, 10 weeks with a foreign feeling finger due to the pins holding the shattered bones in place.
"The first couple times, I remember touching a basketball [without] a cast [I realized] it's a brand new feeling," Greene said. "And as a shooter, as a guy who has the ball in his hands a lot, you get used to the feel. And when you're comfortable with the feel, that's when you start to shoot well. It took me forever to get comfortable [again]."
After he broke his hand, he was lucky enough to get a medical redshirt, or a year's rest due to an injury, to play for another year, and he was back on the grind.
"My coach still made me go to practice every day," Greene said. "And so in order for me to stay engaged, he would give me things to lead. And so it did, it made my mind transform from being a player to seeing it from the sideline and being a coach and kind of seeing the whole picture instead of just the part of the picture that I'm involved in. It's how I started coaching."
After an entire basketball season of learning how to shoot again, learning how to grip again and learning how to catch again, he finally played again, but it wasn't with the teammates he had bonded with for the previous four years.
"You break your hand and you come back and it's not the group of guys you expected to go out with," Greene said. "It's hard to make that same connection in one year that I had with guys that I played with for four years."
Greene and his class had won the conference championship the year before, and expected to do it again, but he didn't get to play with them again because of his hand.
"Had I not broke my hand, [then] we're as good of a team as there is in the country, I fully believe that," Greene said. "When you break your hand, and you're on that kind of a team, and you've prepared yourself, physically and mentally, you're just so much more willing to give everything."
Greene didn't play the same, not only because of his hand, but because of the lack of chemistry he shared with his new teammates.
"There's a physical aspect that my hand is different, I'm shooting the ball different, catching it different, but that part wasn't the hard part," Greene said.
"
"The hard part was the mental and emotional [and] getting over the fact that my guys were gone."
— Greene
He kept playing, but the physical and mental grind that Greene enjoyed for so long wasn't enjoyable anymore.
"Everybody enjoys gains, that's the easy part," Greene said. "But when you no longer enjoy the process, you're probably done. The process gives you the result, not the other way around."
He was finished playing, but his time on the court wasn't over.
"[I was] already in grad school," Greene said. "So I was like, 'Well, let me finish this out.' So I finished it out and my coach [asked] 'Well, since you're staying, do you want to be a grad assistant?' And that was my first coaching job."
Greene loved the experience, but he realized that he didn't want to coach in college.
"My college coach taught me a lot of things that I still implement," Greene said. "In college, you're constantly moving. If you're an assistant coach, you're always scouting somebody, you're always recruiting, you are constantly moving. And I just, I couldn't do it."
After Greene graduated with his master's in economics, he started working a desk job, but that wasn't right either.
"I hated my life," Greene said. "I absolutely hated it. So then I was like, 'I gotta get back to coaching, I gotta get back to basketball.'"
He climbed the rungs on the ladder to success as a basketball coach, climbing from a 5th grade girls basketball team and then a TAPPS (Texas Association of Private and Parochial Schools) 1A school as an assistant coach, to eventually UIL 4A Taylor, and finally, head boys basketball coach at UIL 6A McNeil.
"Every time I've moved a school, or gone up a level, there's a new set of challenges," Greene said. "Every level I've gone up, there's more kids and more teams. To an extent, there's more expectations. At Taylor, I'd be lucky to get 50 kids to try out. I'm going to have close to 100 kids try out this year. "
Greene likes being the guy who replaced the guy.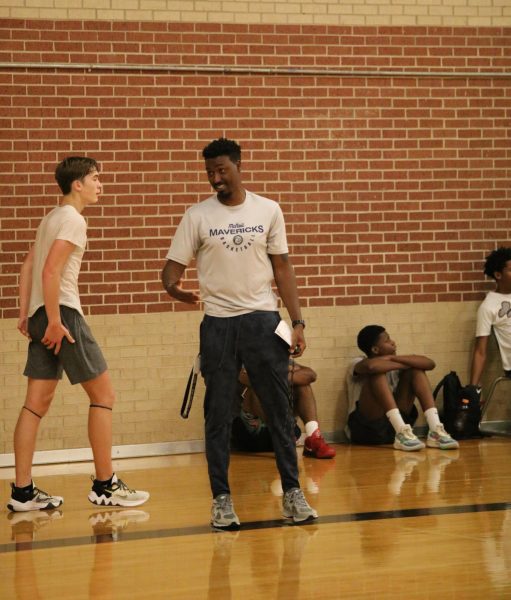 "Coach Hag was here for 30 years and did this thing at such a high level that it's like, 'Yeah, I want to be better than that,'" Greene said. "That's the competitiveness in me."
Even though he didn't start the McNeil dynasty, Greene wants to continue it and make it more of his own.
"I envy the sustained success that he had," Greene said. "I want to get it back to where it's like, every year, they're making the playoffs. Every year, it feels like they might win state. But I also want to be that guy that's done something Hag never did."
Greene wants to impact McNeil basketball with trophies on a trophy shelf and with a positive impact on his players.
"I think that's why I became a coach, because my coaches were my biggest role models," Greene said. "Majority of the guys that I was around were my coaches. For my kids that are having issues, or just need a guy to look to, I want to be that guy. And then I want my [players] to be that guy to somebody else."
His life goal is to buy a basketball facility to run tournaments in as a way of paying it forward to the game he loves.
"I'm a basketball guy," Greene said. "I tell my guys like, I'm 35, I've been playing this game since I was eight, I've given my life to this game and this game has been very good to me. I just want to be able to give back to it."