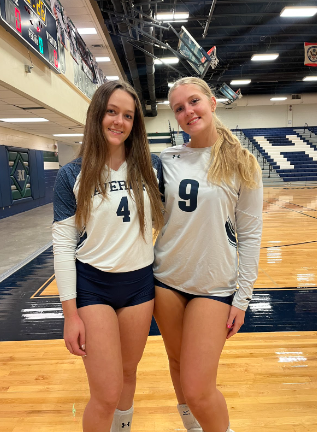 When on a sports team, teammates can sometimes feel like family, but for these athletes, they actually play with theirs. Whether they are in baseball, basketball or volleyball together, these athletes are able to understand what it feels like to have actual family on their team.
Sisters Emma Bruce and Kristen Bruce, feel like their bond has grown through playing volleyball together.
"I think they work really well together," head volleyball coach Burns said. "I have had siblings in the past who have butted heads, but I think they have done a really good job, they keep their sister stuff off the court and are all about the game when they are on the court."
Emma is a sophomore playing setter on JV and Kristen is a senior playing outside hitter on varsity. While they are on different teams, both of the Bruce sisters appreciate the bond cheering each other on and scrimmaging together has given them.
Story continues below advertisement
"I like playing the same sport as Emma because I get to watch and cheer her on and I know that she is watching and cheering me on as well," Kristen said. "I drive her to practice and she'll wake me up if I'm late. We'll cheer each other on during games."
Not all sibling competition is bad. Emma says she uses Kristen as motivation.
"She motivates me to be better because right now she is better than me," Emma said. "It makes me want to be better than her, so I try harder."
The Bruce sisters have loved playing with each other and are cherishing this last year when they get to play together.
Brothers Justin Sandusky and Joseph Sandusky are also siblings competing in the same sport. Justin is a sophomore and Joseph is a junior on Varsity baseball this year. Justin plays first base and Joseph plays shortstop.
"I like playing the same sport as my brother because it's fun," Justin said. "We both want to work hard to be better than each other."
Justin and Joseph are able to push each other to get better despite their age differences. Playing in the same program as a sibling can be extremely difficult but Joseph and Justin seem to enjoy it.
Another set of siblings are twins Gavin and Ethan Ward. When they began playing basketball at Mcneil, they didn't get to play with each other, but now, both seniors, get the opportunity to play varsity basketball together. To them, playing together in senior year is a full-circle moment. Gavin is a point guard and Ethan is a shooting guard and small forward.
"He pushes me through my boundaries," Gavin said. "He makes me a better player because I want to compete with him and do better than him."
These siblings all have similar views on being in the same sport as a sibling. Regardless of being on different teams and different ages, they use each other as motivation to get better.