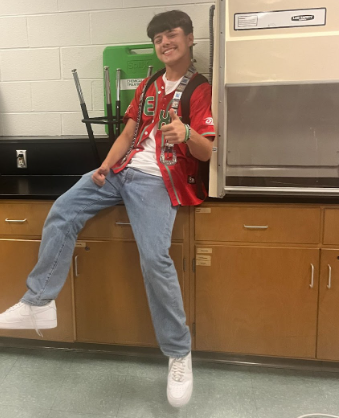 Feb. 24, 2022, is a date that Lucas Castillo will never forget. Relaxing in his room on FaceTime with his friend J'Ryan Moore, Castillo made a deal that if he made a beat, Moore would rap on it. After experimenting with some beats and writing lyrics on his notes app, the first Lucas.com song "Jimmy Timmy Power Hour" was created.
"Me and J'Ryan were just having fun really and we made Jimmy Timmy Power Hour and 'that's how the legend began,'" Castillo said. "It created a new interest for me that I had never thought of really pursuing before."
Castillo created the name Lucas.com prior to his music career, from a Kahoot name. However after this newfound interest, discovered through his song with Moore, he put his efforts and his name into making music.
Castillo felt like he had unfinished business to do after making his song with Moore.
Story continues below advertisement
"I realized there were so many people to work with and so many songs to make," Castillo said.
The first seven-song album was created less than 24 hours after "Jimmy Timmy Power Hour." The process can be pretty lengthy for Castillo to write and record the songs.
"It takes about an hour and a half but sometimes longer if I have features to put on the songs," Castillo said. "It's actually pretty fun, I just write about 30 lines for a song and put it over a beat to record. If I don't like the song I'm making, I'll just delete it. And so like while I've only released 50 songs, I've recorded about 300."
Castillos' style and process have been inspired by artists he admires, as well as the culture that he surrounds himself with.
"Babytron really inspires my flow and also Pharrell and his music and production style," Castillo said. "I'm Mexican, so that makes good inspiration because the samples are from a lot of corridos. I'm getting a lot of experience from just listening to a lot of music. I had over like 150,000 minutes listened last year."
The inspiration for Castillo's song titles is a major thing that he looks for in his process of song-making.
"They just really come to me, sometimes it's lyrics from the song," Castillo said. "Some titles are from jokes or like moments with friends, like my new song "Booty Bump Boys."
Through Castillo's music journey, he looks for new opportunities to collaborate with other musicians and friends at McNeil. The people he likes to collaborate with most as an artist is a musical, and production group he joined, known as Motionworld.
"Motionworld means a lot to me, they are my close personal friends, like my brothers," Castillo said. "Some of the members of Motionworld are De'marion Sam, Nwadike Nwosu, Rodrigo Rivero, and the founder of Motion World, Ferryn Hamilton."
Junior Ferryn Hamilton has been making music since the seventh grade and eventually got the idea for Motionworld.
"I knew I wanted a record label, so I recruited some of my friends and eventually the name just came to me," Hamilton said. "It's a platform to communicate with other artists', really what it's all about is to be able to help each other out."
Hamilton began producing before he was making music, through an app called Sound Trap.
"Eventually for one of my birthdays I got FL studio which I moved to from Sound Trap," Hamilton said.
With more practice, YouTube tutorials and recording through FL studio Hamilton began to improve.
"I was practicing every day just sitting down and making music every day."
Worlds collided when Hamilton met Castillo during their freshman year of high school at McNeil.
"We met each other through our friend De'marion," Hamilton said. "After making a couple of songs together, Lucas just asked if he could be in Motionworld and now he's one of the biggest parts of it."
Lucas' new involvement in Motionworld has developed other artists' overall style, by introducing more R&B, along with corrido-style music to the mix.
"I definitely had to change my style up a bit when collaborating with him because his style is different than mine," Hamilton said.
Motionworld holds true to its purpose and helps motivate Castillo to create more music.
"Before, I met Ferryn, and I was using presets, my music sounded worse, like I actually can't even release some of the songs I made before," Castillo said.
While Lucas mainly makes music with Motionworld, he is always searching for others to create music with.
"I want to try and collaborate with more people from the football team," Castillo said. "I would like to collaborate with Deondre because I don't really have a one-on-one song with him".
Castillo surrounds himself with people who support him and inspire him to make music, not just Motionworld but also other members of his friends and family.
"My biggest supporters are probably the guys from Motionworld but also my friends Jermichael, and my girlfriend Ari," Castillo said.
Castillo's girlfriend Arianna Braddy is constantly inspired to pursue her own interests and passions through Castillo music.
"A lot of people made fun of him for it," Braddy said. "And he kept going through it past that."
Castillo keeps things light-hearted with his music in general. By having a good time he is able to keep the process fun.
"I feel like people think it's really silly, and some think it's super serious," Braddy said. "Really, he's just having a good time"
What started out as just fun for Castillo turned into something much more. Having made over 10,000 dollars off of his music he has started to think of what to do with it all and create goals for himself and his future.
"Maybe I will save it for college, or maybe buy my girlfriend Ari a pony or a ranch," Castillo said.
With over 200,000 streams on his platforms, Castillo has bigger goals for this.
"I would like a million streams, that would be really great," Castillo said.
Some of Castillo's goals for now along with making an EP with the receivers from the football team is to perform at some venues at school with the rest of Motionworld.
"There's this thing called lunchbox theater that I would love to perform at if it is still running," Castillo said.
Lunchbox Theater is an open mic type of performance run by the school's drama club.
"Motionworld would have the craziest best performance there," Castillo said.
As Castillo continues to grow in his field he doesn't want to lose his ground or have things become too serious. "I like having fun environments and being just a silly guy", Castillo said.
Despite his many advancements and goals, in reality, Castillo doesn't see himself pursuing music much further into the future after high school.
"I'm just living in the now, you know like if things develop majorly with the music and the movies it might change, but it is not likely," Castillo said. "After high school, Castillo has thoughts to pursue other things. I really want to be a sports analyst, it's something that has always sounded really fun to me."