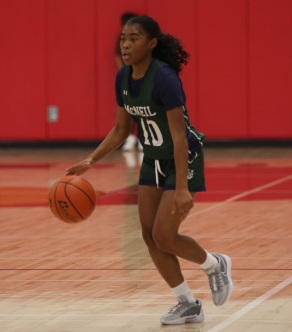 "She's a freshman! She's a freshman!" The crowd cheers as Caria Thomas dribbles the ball up the court. In the first home game of the season, Thomas was starting as a freshman and making a difference.
"I didn't know I was going to start until a few minutes before the game," Thomas said. "At the beginning of the game I was really nervous but when the game started it was pretty fun and easy, and I became more comfortable."
Going straight to varsity as a freshman is a hard accomplishment and isn't something that happens often. Last year, Taryn Smith was another player that was able to achieve this.
"I look up to everyone on the team, but I really relate to Taryn," Caria said. "She was also a freshman on varsity last year and played an important role on her team."
Story continues below advertisement
Smith understands the pressures of being a freshman on a varsity team and tries her best to support and encourage her the best she can.
"I try to support Caria by talking to her, encouraging her, and hyping her up," Smith said. "She really impressed me when we were playing against Hendrickson when she made a floater against their best player."
Her handles and ability to change the game make it hard for her to not catch people's eye, constantly being a top scorer and being able to blend in with players three or four years older, head basketball coach Matthew Butler said that she stood out from the start.
"In fall basketball we saw her play and how she changed the tempo of the game. Her speed and quickness, as well as her ball handling skills, drew us toward her, plus she scored a lot," Butler said. "Our first game she was our leading scorer in the first period, she ended up scoring 21 points in our first game, which is pretty remarkable for a freshman. In both games that she's played, she's scored 20 points or more, not even playing the whole game, that is pretty amazing for a freshman."