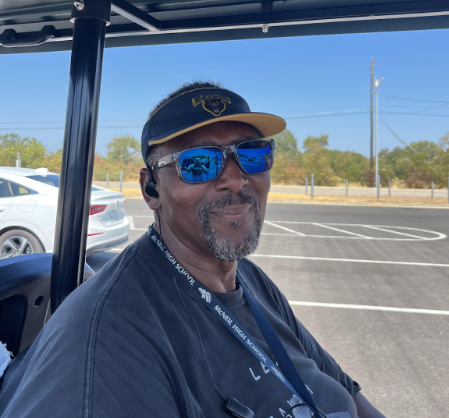 Very few people know his name. Spencer Majors, or as students know him, "Golf Cart Guy" drives around the student parking lot from the early morning to the end of the school day ensuring the safety and security of students and staff. But Majors is so much more than just the "Golf Cart Guy."
Majors has been working at McNeil for four years. Before his job as parking lot security, Majors worked as a chef at Hilton for 20 years then moved to doing school services and eventually worked his way up to becoming a safety supervisor.
"I did a lot of stuff while being a safety supervisor," Majors said. "So that's how I got invested with keeping kids safe."
After working as a safety supervisor for a few years, Majors retired, but eventually got tired of sitting at home and took the job at McNeil.
Story continues below advertisement
"I missed the interactions with different people and seeing different smiling faces," Majors said. "Keeping the kids safe keeps me motivated, I want to make sure they start their morning off right and when they come outside they don't have to worry about somebody being out here or something going wrong."
While most students understand that the rules Majors enforces are for their own good, some don't see it this way which can cause tension. But still, he always aims to see the students' side and be understanding.
"I don't pay attention to what students say when they are upset because when you're upset you say things you don't mean so I don't really pay much attention," Majors said. "We've all been at a point when we've been upset and mad and say things we don't mean."
John Mark Edwards, an Assistant Principal, believes Majors' job is essential for the safety of students and changes the environment of the school for the better.
"Of the many jobs Mr. Majors performs in his role as campus security the most important is ensuring unauthorized people do not come onto campus," Edwards said. "In addition to keeping our campus safe through monitoring our entrances and exits, Mr. Majors always greets students and parents with a warm smile and a MAVtastic attitude."
Majors would have never imagined himself working as parking lot security for a high school but he enjoys talking to students and building relationships with them.
"Some kids make me laugh and some of them make me shake my head like 'what's going on with yall, what are yall thinking!'" Majors said. "The kids are my favorite part of my job, I look forward to seeing them walk across the stage when they graduate."
Even though most students don't know Majors' name, he is not bothered by being called the golf cart guy, in fact, he likes it.
"It's kind of like a nickname," Majors said "Sounds good. Golf Cart Guy."