The Umbrella Academy
Season 2 of "The Umbrella Academy" is comparable to the "Stranger Things" trilogy, somehow the seasons just get better, not worse.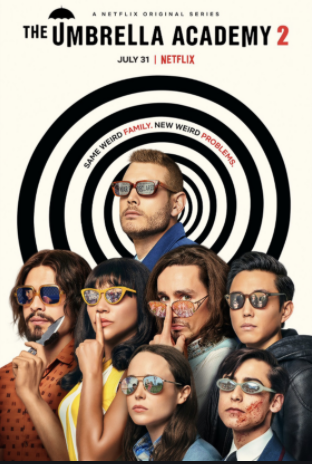 Watching the new season of "The Umbrella Academy" immediately after it came out was worth the sleepless night because it was better than the first season. "The Umbrella Academy" is a show about a group of siblings with supernatural powers trying to put a stop to the end of the world. Following the events of last season, the siblings get scattered in the 1960's and have to survive in their own ways and create a life for themselves in a completely different setting than they're used to. Characters who were barely used in the first season get much larger roles and are developed into actual people. There are quite a few plot holes when it comes to the time travel aspect of the story, but that's sort of expected because the logistics of time travel isn't a definite thing. It plays a big role in this season, so at some point you just have to go along and hope the story will make up for it, which it does by distracting you with the plotline. Another questionable decision would probably be how prominent Five was in this season. He is a great character with interesting development and a well hidden complex, but it seemed as if he was in every scene, even if he wasn't actually there, by how often they talked about him. Which isn't necessarily a bad thing because Five is a really well written character, it just got a little obsessive after awhile. The narrative this season was a lot better than last season, and the characters seem a lot more like people than just some edgy teenagers moping around a big mansion.This season was a much better and more well rounded season than the last.  Overall, the second season of the Umbrella Academy is a worthy binge watch while staying at home during quarantine. 
⭐⭐⭐⭐/ 5
Leave a Comment