"Something Rotten" becomes a McNeil Musical to Remember
The creation of the modern musical, purely in the pursuit of spite against Shakespeare, "Something Rotten" details the story of the Bottom brothers, Nick (Senior Jason Bui), an unsung playwright, looking for his big break against his biggest rival, William Shakespeare (Senior Aria Glinski). His brother, Nigel (Junior Bonnie Bond), on the other hand, is a superfan of the Bard, writing sonnets and plays that rival his idol himself. The brothers' differences ensue in medieval mayhem, which is performed at a modern Broadway level of hilarity by leading performers. 
The Bottom brothers struggle in making a 'respectable' enough play to keep receiving money from patrons, Lord Clapham (Junior Caleb Goodwin) and Shylock (Senior Jack Robertson), as well as earning enough money to eat more than boiled cabbage, prepared by Nigel's hilarious, fun, early feminist wife, Bea Bottom (Senior Clara Cavazos). Their struggles all come together in Nick's hatred for William Shakespeare, who he believes is the reason for their troubles. He knows that he needs something special to compete with the Bard, and seeks the help of fortune teller Thomas Nostradamus (Junior Aaron Hall), who introduces what a musical is to Nick, and later, the New World. 
Lead performer Bui puts on a performance to remember, especially in the first part of the story, playing perfectly off costars Cavazos and Bond's exemplary comedic timing. The delivery and emotion displayed in Something Rotten could not have been only conveyed in a script or through rehearsal, but from the heart as well. Although sets are simple, their simplicity highlights the performances, without a need for an extravagant set.
As the play goes on, Nigel finds, and loses love. Meanwhile, Nostradamus predicts Shakespeare's most successful play, 'Omelet,' which results in perhaps the funniest song of the entire production, "Make an Omelet," but a conflict between the brothers as well. Bond's performance as Nigel throughout this plot element was superb, the way Bond conveyed the feelings of lost love, and the frustration towards his unwilling brother was excellent, and every audience member could feel and understand through the strength of Bond's execution of the role.
After the brothers reconcile, and are subsequently ordered for beheading due to their production, the increasingly brilliant Shakespeare saves them from death. The representation of Glinski's Shakespeare was both hilarious and insightful, delving deep into the 'true' Shakespeare, which is thinly veiled behind the comedic moments throughout the play, such as the theft of Nigel's Hamlet, and the rendition of "Hard to Be the Bard." While the comedy was simple, Glinski carried it out with grace, giving the perfect, hysterical cherry on top to an already priceless musical.
View Comments(1)
About the Writer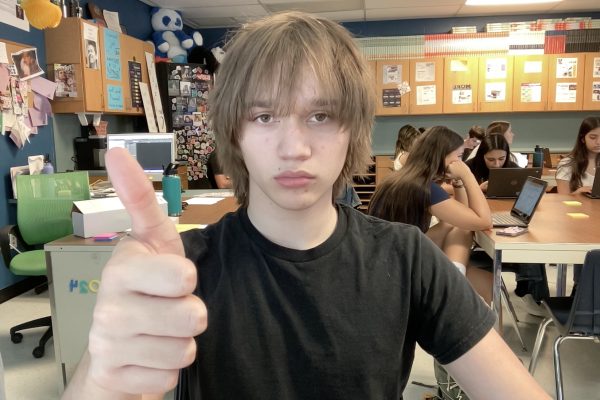 Nikolas Russell, Life & Arts Editor
I am Nikolas Russell and this is my second year on the Trailblazer staff. I work as a reporter and the Life & Arts editor for the 2023-2024 school...