Sherwood Forest Renaissance Faire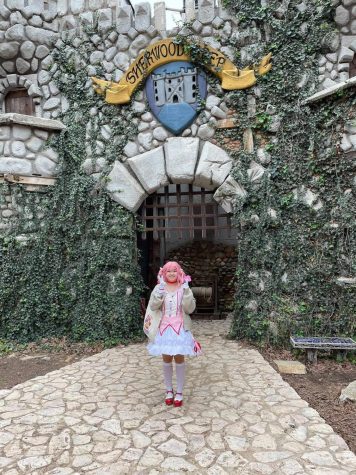 The Sherwood Forest Renaissance Faire is back in Austin for a limited time. The running of the faire is about halfway through at this point and will continue until April 23 this year. It's a big event in Austin, something that excites the medieval-loving population of teens and adults alike in and around the Austin area. The faire boasts entertainment and handmade items that are available for purchase, creating the perfect place to meander for hours.
The entertainment aspect of the Sherwood Forest Renaissance Faire is a huge part of the scene, with things like comedic acts and falconry performances being two of the most popular.  However, the primary source of entertainment definitely comes from the jousting tournaments that are held every day. The audience sits in a section of their respective "knight" and gets to cheer for them. There's no physical prize for the audience, only the satisfaction of the win and the bragging rights that come with it. It's an extremely exhilarating event that comes with the added bonus of seeing the cute horses that the knights ride. Additionally, beyond the free events that you can witness, there's some events that you can pay to enter. You can do archery and other similar activities to test your skills like sword fighting. There is even an option to commission the prison-keep to go and "arrest" someone you know, where the only way out of jail is to do something for whoever commissioned the arrest. The options at the Sherwood Forest Renaissance Faire are nearly endless when it comes to entertainment.
Another aspect of any renaissance faire that makes the whole experience just that much more enjoyable are the abundant handmade items. You can show up to the renaissance faire with no time-period related clothing on and leave head-to-toe in garb. Everything is handmade, so big things like fur cloaks and leather work can get pricey, but it's worth it for the fun you'll have playing dress up. Even if you don't want to go full on with gear, you can still buy just one or two things and leave satisfied, like a belt pouch or even a sword. If you don't want anything wearable at all, there are coasters, pottery, glass blown windchimes, wood carvings, crystals, paintings, maps and so much more. There's something for everyone at the Sherwood Renaissance Faire, all one of a kind.
View Comments(1)