Publications Win Big at State Contest
Several months ago, the 2013 Maverick yearbook and the Trailblazer Online entered the Interscholastic League Press Conference contest. Awards were announced on April 27 at the ILPC Convention; both publications won several individual achievement awards.
For the yearbook, reporters Kelsey Banigan (2013), Kaleigh Beane (12), Beka Mills (2013), Becky Moore(2013) and Allie Rathgeber (12) won honorable mention in Headline Writing. Banigan also won honorable mention in the sports feature story category for her cross country story, and Mills received honorable mention for her cheer club/organization feature story. Sarah Melendez (2013), Mallory Davidson (11), and Emily Jahadi (12) won honorable mention in the sports feature photo category, academic photo category, and portrait category, respectively.
For the Trailblazer, Aina Khan (10) took first place in the captions category for her Photos of the Week (Flags Flying, Varsity Blues, Follies Shine Brighter, Hanging Up the Pom Poms, Close Shave). Third place in Headline writing went to a collection of several headlines; Rebecca Mitchell's "Frozen' Melts People's Hearts," Aleah Goldberg's "STAAR Test Doesn't Shine in Students' Eyes," Amrin Madhani's "'Catching Fire': The Odds Are Always in Your Favor," and Anna Qi's "This Is, Like, a Review About Teens," and "#OMG We Can Change the English Language."
Heeyoung Sim won second place in entertainment review for her story "IOS Brings New Features to iPhone."
"I never expected to win," Khan said. "The last journalism award I won was in eighth grade. This makes me want to work harder and aim for something higher."
About the Writer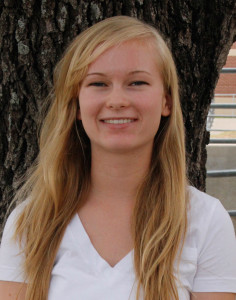 Shannon Steidel, Editor In Chief
Hi I'm Shannon, I'm a senior and Editor-In-chief this year. I'm a member of the Color Guard and in my free time I like to read, listen to music, and spend...