Mr. Mav: Clubs Join Together for a Fun Pageant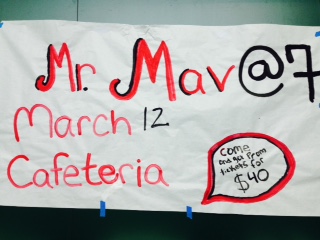 Student Council will host its 12th annual Mr. Maverick Pageant Thursday, March 12 at 7 p.m. in the cafeteria.
Mr. Maverick consists of 10 contestants who represent of their designated clubs. The pageant goes through different categories that include: casual attire, formal attire, talent show, and a final five question and answer segment.
"For my talent, I'm going to be dancing," senior Daniel Nguyen said. "It's gonna be pretty fun."
The 10 contestants participating in the Mr. Maverick Pageant are: Nikoli Hernandez of AFJROTC, Kyle Churchill of band, Filip Kasprowicz of choir, Anthony Lam of Diversity Club, Luke Proctor of FFA, Jackson Smith of InterAct, Jack Chang of Mu Alpha Theta, Henry Ly of NHS, Joel Teal of publications and Daniel Nguyen of Wrestling.
"This is to get clubs more involved together," Student Council sponsor Vicki Renfro said.
Tickets cost $5. For those attending the pageant, there is also a discount of $40 for prom tickets if purchased that night.
"This is a good way to show more spirit in school," junior Saheel Chodavadia said.
Leave a Comment