Math Relay: Showcase Your Math Skills, Get Extra Credit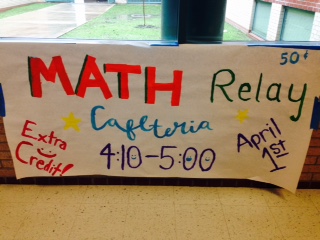 On Wednesday, April 1, Mu Alpha Theta will host its annual Math Relay. Participating in the Math Relay is a great opportunity for students to earn extra credit for their math classes and to also display their skills in mathematics.
"It's a fun experience and a great way to earn five points extra credit,"  secretary of Mu Alpha Theta junior Annie Wang said.
The Math Relay is exactly what it sounds like: a collaborative team event that depends on each individual to complete their section or part in order to finish the relay. The relay first starts out with the lowest math level and then progresses to more difficult maths. Each team member must complete their math problems in order to pass it on to the next level.
"You win by who gets the most right," Wang said.
The Math Relay is dependent on team effort. The entire concept is about working together and helping each other out.
"It's a very collaborative competition," junior Sruthi Kosuru said. "It is a great way to showcase our mathematical skills."
For anyone interested in going to the Math Relay, sign up by talking with a math teacher and paying 50 cents. The deadline to register for the relay is March 25.
"We have prizes like gift cards for Rita's Ice," Mu Alpha Theta sponsor Tom Decker said.
Leave a Comment