Debate Part Deux
SSJ hosts rescheduled event
Crowding the lecture hall, the voices and laughter of various students filled the room as they awaited the start of the Trump vs. Hillary campaign debate.
John Truitt and Paula Trietsch Chaney were the guests of the afternoon, tasked with representing the campaigns of the presidential candidates Donald Trump and Hillary Clinton in a mock debate.
"Students for Social Justice really wanted to inform voters about their candidates and the system as a whole," Olivia Pekar, Co-President for SSJ, said.
The debate had been previously scheduled earlier in October; but due to the absence of Truitt it was moved to Oct. 27.
Student turnout to the event was still impressive, with the lecture hall jam-packed with students from all grades eager to witness the debate take place.
The structure of the debate was similar to protocol used in recent debates between presidential candidates Donald Trump and Hillary Clinton, to simulate the experience of witnessing a presidential debate take place.
"We began to plan our format in a traditional debate format, with questions that would really explain the party's' stance on issues," Pekar said.
A little over an hour was allotted for the debate, allowing enough time for moderators, Co-President Jarron Rudd, Pekar, and Vice President James Sullivan, to ask about issues such as the economy, foreign policy, gun control, and climate change.
"There are so many scandals with this election that take away from the actual opinions of the nominees," Pekar said.
The scandals were purposefully avoided, to allow greater focus on the proposed plans and ideas of Clinton and Trump.
Both representatives were passionate about the topics brought up, crafting responses backed up by statistics and proposals.
"I thought the debate went smoothly, and that the representatives were well-mannered and talked within the time limit," junior Nikhila Ravikumar said.
This allowed for students to have firsthand experience with an expertly crafted debate meant to inform, in order for students to gain the resources and knowledge needed to keep up with the election coming to a close Nov. 8.
"By hosting debates like these, we are encouraging students to actively read the news and stay up-to-date with important issues," Ravikumar said.
About the Contributor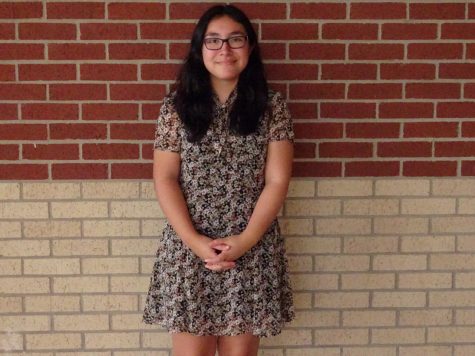 Megan Garcia, Editor-in-Chief, Entertainment Editor
Hi! I'm Megan Garcia and I'm very excited to be Editor-In-Chief and Entertainment Editor of The Trailblazer this year! This is my second year on staff...