Inducted to Something New
MAT, NHS honor new members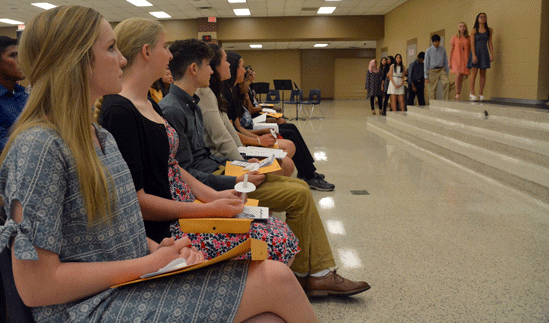 Inducted to Something New
MAT, NHS honor new members
The Mu Alpha Theta and NHS induction ceremony took place Oct. 25 from 7-8:30 p.m. in the cafeteria.
Presenters Nayan Shashidhar, Sarah Lee, and Aditya Sankar called out the inductees' names one by one as each inductee came up on stage and shook hands with Principal Courtney Acosta and teachers.
"The best part of the ceremony was going up on stage when my name was called because it gave me a sense of achievement," sophomore Spurthi Kuppasad said. "I would like to join more things like this in the future to become more active in my community."
After the names were called, the Mu Alpha Theta pledge was presented by Matthew Golla.
The people who were accepted to be a part of Mu Alpha Theta are: Rania Agrawal, Hugh Alexander, Prerana Amargol, Arya Amin, Apoorva Amudhan, Kara Bang, Karen Beck, Sabika Bharmal, Sanne Bloemsma, Jacob Bogusch, Elizabeth Bryant, Sid Byrapaneni, Nikki Carlile, Laura Chau, Jessica Chen, Claire Cheney, Rachel Crabb, Sanika Dhawan, Janssen Fang, Erica Franco, Sophia Frangenberg, Emily Fuentes, Cheryl Gardner, Eduardo Garza de Haro, Sampada Gokhale, Brooke Golla, Maanya Gulati, Rodolfo Gutierrez, Dan Ho, Amber Hoskins, William Janes, Aidan Johnson, Aadhithya Kannan, Ashna Karpe, Logan Keim, Samia Khan, Jacquline Kim, Jihee Kim, Ivy Knight, Michelle Koh, Kartikeya Kotamraju, Vaishnavi Kothakonda, Sanskrithi Krish, Spurthi Kuppasad, Quynh Le, Kaitlyn Ledden, Daniel Levi, Tsai-Wei Lin, Hao-Zhe Loo, Franklin Mao, Garrett Marks, Ashley Mathew, Nani McDaniel, Casey McNeal, Akanksha Mehta, Nikhil Meka, Keertana Moorty, Abhinav Mugunda, Aparna Narayan, Michael Nguyen, Anushka Noubad, Kush Patel, Eric Pham, Shannen Phan, Pooja Pisharody, Cassandra Prince, Joseph Punske, Mohammad Rahman, Emma Ramirez, Shravan Ravi, Stephanie Ro, Prathigya Selvapathi, Fang Shu, Connor Simpson, Aishwarya Sivakumar, Jessie Strenk, Anjana Swami, Lexi Tocci, Dienkhanh Tran, Tien Tran, Kimberly Tran, Rishi Venkat, Brian Vu, Raghavi Vuppala, Gary Wang, Ingrid Warrick, Brandon Wen, Layna Whitley, Gabriel Workman, Hailey Wren, Catherine Wu, Mingi Yeo, Aditya Yogananda, Ann Marie Young, Safiyah Zaidi.
Next, Katherine Perks and Micah Kinser called out the names of National Honor Society inductees: Oluwatobi Adebo, Kanwal Ahmed, Misbah Ali, Lindsey Bakonyi, Tyler Barker, Samantha Barufaldi, Claire Bean, Jacob Becker, Kais Bhandari, Sabika Bharmal, Danielle Borra, Michael Caldwell, Anne Cao, Destiny Chan, McKenna Chandler, Sarah Choi, Noor Cloyd, Ashlea Cooper, Sarah Delahunt, Matthew Dixon, Abigail Etheridge, Abigail Evans, Jaden Fang, Ada Forbes, Kaitlyn Freeman, Bela Gadgil, Rhianna Garcia, Ethan Gibbs, Ethan Golla, Sheridan Green, Matthew Hailes, Zachary Harper, Melkon Harutunian, Giuliana Hays-Angelelli, Ashton Heitz, Kaylee Ho, Margaret Jacks, Kunal Jain, Nitin Jain, Dohyun Jun, Siway Keomaxay-Hampf, Bahiya Khan, Mariam Khwaja, Na Kim, Nisha Kolagotla, Vignesh Krishnamurthy, Anthara Krishnan, Tejal Kulkarni, Numair Latif, Aditi Lavani, Ivy Lee, Sarah Lee, Eduardo Levi, Roberto Lopez-Granados, Matthew Lutz, McKenzie Maddox, Arka Majumdar, Divya Malani, Madeline Marrone, Kesiya Mathew, Jonathan Matthews, Katie Maurer, Maria Maynard, Megan McCann, Sydney Medina, Mikenzie Miksch, Sharon Monagas, Ankita Narahari, Jacob Neading, Rhea Nelson, Angela Nguyen, Anthony Nguyen, Hannah Nguyen, Jessica Nguyen, Michael Nguyen, Monica Nguyen, Samuel Ochoa, Deshantar Parajuli, Ronak Patel, Braeli Payne, Nicholas Pena, Jason Phan, Shannen Phan, Pooja Pisharody, Cassandra Prince, Anjana Ramachandra, Akhila Ravikumar, Nikhila Ravikumar, Adrian Raygon, Isabella Romero, Sutrisna Roy, Varun Saravanabavan, Cameron Schnurer, Deevika Sharma, Nayan Shashidhar, Evie Shaw, Victoria Shon, Kristina Simons, Hannah Solano, Sumin Son, Kendall Stewart, Anjana Swami, Emma Thacz, Vinh Ton, Faith Tormusa-Koroma, Tien Tran, Elyse Vaughn, Natalie Verhaeghe, Pranav Vijayan, Christopher Vo, Ryan Walker, Susanna Wang, Mallory Warner, Brooke Wedig, Layna Whitley, Grant Wilson, Allison Yonker, and Safiyah Zaidi.
After the names of the new NHS members were called, Vivian Vu presented the National Honor Society Pledge for the new members. The ceremony was concluded with a thank you from Spence Blood, the vice president of NHS, and followed by a reception.
Leave a Comment