YA author Shusterman visits for new book 'Scythe'
Standing in front of the rows of chattering English classes and fans curious to know about one of their favorite novels is author and National Book Award winner Neal Shusterman, inviting students seated in the PAC to engage in a conversation with him as part of his visit.
Themes of hope and loss, courage amidst suffering, and perseverance in the face of rejection threaded themselves throughout the hour long Q-and-A between students and Shusterman on Fri. 13.
Junior Akila Ravikumar reflected on the hard work and effort that Shusterman dedicated to his profession.
"People like Shusterman remind us that people do not become overnight successes," Ravikumar said.
Hosted by the library, Shusterman came to talk about his newest book, Scythe, set in a world where the most moral and ethical members of society, called Scythes, are supposed to thin out the population no longer under threat of disease.
Scythe formed one branch of the overarching topics of inspiration towards novel and script writing as well as why Shusterman became an author in the first place.
Securing an author for an event is equal parts luck and dedication, as Librarian Amelia Lewis described how the process of securing Shusterman was made possible by the book tour currently taking Shusterman across the country.
"His representative sent an email saying he's in Austin and he's free," Lewis said
With the announcement of Shusterman's arrival causing much excitement and with a raffle giving away 100 signed copies of Scythe later, the event couldn't come soon enough for students.
Lewis explained it was important to have an author like Shusterman come visit students, as Shusterman provides an example of the diversity within the author industry that isn't always obvious among the limited literature required within English classes.
"There are so many different kinds of people who write books," Lewis said. "I'm really pleased [for students] to see something different from what they expect."
Those in attendance were given glimpses into the thought processes and experiences that shaped Shusterman's most popular novels, as topics such as teen rebellion, dividing opinions on abortion, technology's newest advancements in transplants, and Shusterman's own experience with mental illness came together to form a basis of what sparks Shusterman's need to write.
"I want to create stories that enrapture people's imaginations," Shusterman said.
About the Writer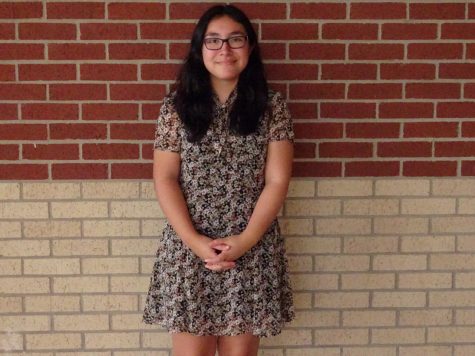 Megan Garcia, Editor-in-Chief, Entertainment Editor
Hi! I'm Megan Garcia and I'm very excited to be Editor-In-Chief and Entertainment Editor of The Trailblazer this year! This is my second year on staff...