A Modern Twist on an An Old Classic
Thespians sell out 3 productions of 'Romeo and Juliet', add Saturday matinee
Hang on for a minute...we're trying to find some more stories you might like.
Putting a modern twist on Shakespeare's Romeo and Juliet, the theater department performed its fall production at the Raymond G. Hartfield Performing Arts Center Sept. 28-30 to four sell-out crowds.
"It was a good feeling being able to say that we sold out all three shows, and it gave us the opportunity to have an extra performance," junior Gaby Carroll, who played Peter in the play, said.
The twist came in the casting of the play. In her sixth play at McNeil, junior Jackie McKenna portrayed the role of Romeo – traditionally played by a male actor.
"The play was really fun to be in because it was such a big and dedicated cast," Carroll said. "The most difficult part of the production was that we only had three weeks to bring this show to life but I think it just made our success more of an accomplishment."
When tickets went on sale the week of the show, all three shows sold out quickly. A matinee show had to be added Saturday afternoon due to the immense popularity so that everybody who wanted to watch the show could. The show was funny, entertaining, and emotionally charged. The cast and crew succeeded in making the classic story come to life; it was easy to tell that they put a lot of work into it to make it as amazing as it was.
"My favorite part of playing my character was following other characters around all of the time," junior Cara Jackson, who played Sage from Capulet chorus, said. "I loved bonding with the people in the cast and crew. When you're with these people after school until 9 o'clock and sometimes even 10, it gives you the opportunity to bond a lot.

About the Writer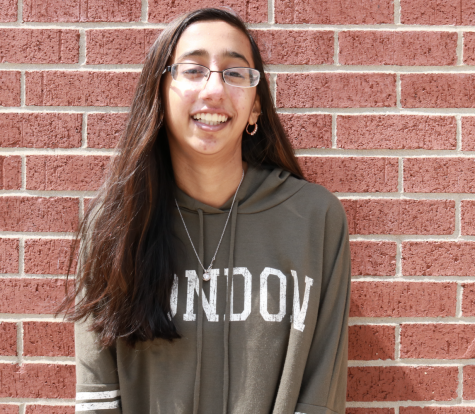 Uzma Pathan, Reporter
Hello! My name is Uzma Pathan and this is my third year working for the Trailblazer. This year I will be serving as a reporter and News Editor. My last two years with the Trailblazer has allowed me to step outside of my comfort zone and improve my writing skills, and I can't wait to do the same in my last year of high school as a senior! A lil bit about me: I love playing guitar, writing and producing music, anything musical at all, playing basketball, and skateboarding. Also if you ask the other staff members they might tell you that I rap and dance well occasionally, I'll let you decide if that's true or not. Also, I am a strong believer in positive thinking so if you ever need a lil pep talk or motivation feel free to talk to me 🙂
Also (one last thing I swear) I have a variety of nicknames including u-money, lil uzma vert, uzma cappa, uzzy, umberto potato, etc. feel free to call me any of them. Alright that's it, have a grand day.