Turning Vision into Reality
Sophomore take on Student Innovation Challenge in downtown
Four sophomores – Ethen Greenberg, Anish Sivakumar, Brianna Spruill and Areebah Bharmal – along with Academy Specialist Gloria Evans presented Sept. 27 for the Student Innovation Challenge at the TASA/TASB convention at the Austin Convention Center about a problem in their community.
"It was good to think about our community, whatever that was [referencing how any community could be chosen for the project, and how people live in different communities], to think about a problem, and maybe not even now, but to start thinking about the future, like how we would tackle problems like that," Greenberg said.
The challenge began two weeks before the convention, when the students were presented with a topic and tasked with making a two minute video. The topic presented was community, and the video needed to be about how to improve any community of the students choice, like the city of Austin, Round Rock, or even the sophomore community at McNeil. The topic the sophomores settled on was the waste around the McNeil High School Community.
"We know everyone here and we see what happens," Sivakumar said.
The video was then presented at a dinner with the other teams, one from Austin ISD and one from Pflugerville ISD, board members from all three ISDs, and representatives from DLR Group, the company that put on the convention Thursday night when the students arrived downtown.
"I was nervous, I didn't really know what to expect yet, so I was stiff and nervous and on edge," Spruill said.
After dinner, the student teams were presented with a twist, or challenge, to do further research on. This year's twist was about making an app or device to help improve a community.
"It wasn't as outlandish as I thought it would be," Greenberg said about the twist. "We chose kind of a small broad thing, there was a lot of ways for us to go, so I wasn't worried."
The students worked on the twist all day Friday at the convention center in preparation for their presentation on Saturday. The students agreed they gained skills from the experience at the convention.
"Better presentation skills for sure," Spruill said. "I feel more comfortable presenting in front of people."
Overall, the convention presented an interesting opportunity and learning experience for the future. These four sophomores were honored at the RRISD Board of Trustees Meeting on Oct. 18.
"You get farther with collaboration," Sivakumar said.
About the Contributor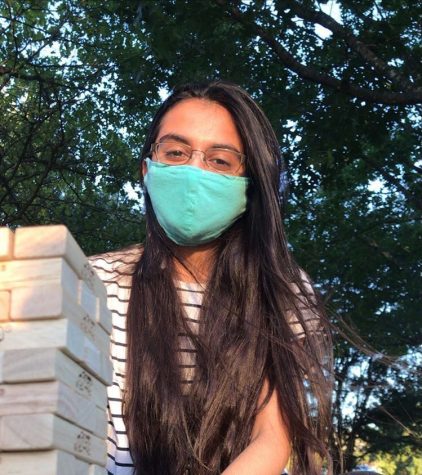 Areebah Bharmal, Editor In Chief & News Editor
Hey, my name is Areebah, and this year I am Editor in Chief. I'm hoping to make the most of my senior year this year even if it hasn't started the way...