From former Vice President, to President
President Joseph R. Biden Jr. was inaugurated on Jan. 20 as the 46th president of the U.S. after winning the 2020 Presidential Election. Alongside him, Vice President Kamala D. Harris was also inaugurated at the U.S. Capitol. 
"This is democracy's day," President Biden said. "A day of history and hope of renewal and resolve through a crucible for the ages. America has been tested anew and America has risen to the challenge. Today, we celebrate the triumph not of a candidate, but of a cause, the cause of democracy."
President Joe Biden won the election in Nov. with over seven million votes, against former President Donald Trump. However, it wasn't until Jan. 6 that Electoral College votes were officially cast, in which President Biden obtained 306 while Trump had 232, which secured his victory after allegations coming from Trump and his lawyer, Rudy Giuliani, about voter fraud. 
"Even though I totally disagree with the outcome of the election, and the facts bear me out, nevertheless there will be an orderly transition on January 20th," Trump said.
The presidential inauguration started off with Senator Amy Klobuchar and Missouri Senator Roy Blunt welcoming everyone to the inauguration and giving their individual speeches.
"This ceremony is the culmination of 244 years of a democracy," Senator Klobuchar said. "It is the moment when leaders brought to this stage, by the will of the people, promise to be faithful to our Constitution and to cherish it and defend it. It is the moment when they become, as we all should be, guardians of our country."
After formal procedure and Lady Gaga having sung the "Star Spangled Banner," Vice President Kamala Harris was sworn in. Shortly after, Jennifer Lopez sang "This Land is Your Land" and "America The Beautiful," which led to President Biden being sworn in as well and his inaugural address. 
"Will we rise to the occasion is the question," President Biden said. "Will we master this rare and difficult hour? Will we meet our obligations and pass along a new and better world to our children? I believe we must. I'm sure you do as well. I believe we will. And when we do, we'll write the next great chapter in the history of the United States of America. The American story."
Leave a Comment
About the Contributor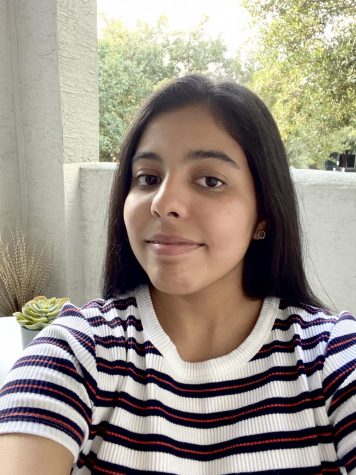 Laura Rivera, News and Life & Arts Editor
Hi, I'm Laura Rivera and I'm a senior this year. This is my third year working for the Trailblazer, but fourth as part of the journalism department....