Changes and Rules for the 2021 AP Tests
The time to take the AP tests is approaching and College Board announced back in February that they're offering an in-person and online option for students. It wasn't until early April that the specifications for the provided options were made available
Due to the ongoing Covid-19 pandemic, College Board is currently implementing new changes to their tests. These changes are not only about testing location, but also test formatting. There are different variations of the test, depending on the location where students complete the assessment.
"We know that school is different this year, but taking AP offers the same benefits as always," College Board stated on their website. "And to help students test this spring, we're adding test dates and digital exams, along with new online resources."
If testing in-person, the student has to arrive on campus an hour before the assessment begins and must wear a face covering. A lunch break will be given to students halfway through the assessment and if the student is planning on leaving once they've completed the test, they must fill out the early release form.
"I chose to take my AP Environmental Science this year in-person, because it is way easier for me to focus at school versus at home," sophomore Sarah Patti said. "I also have two younger siblings, and it's not fair for them to have to sit quietly for five hours while I take an AP test."
If completing the test online, the student is required to download and install the digital testing app and complete the exam set-up for each digital test she or he may take. This must be done days prior to taking the test. On the actual test day, the student must log on to the digital testing app 30 minutes before their test begins and will complete the assessment in between two to three hours, while being timed by the site. Once the allotted time is up, the student will have to submit their test and if they fail to do so, their answers will not be counted. 
"I understand the reasoning for virtual testing," AP World History teacher Ryan Longino said. "However, I worry about the technical issues that accompany online testing; if a student encounters tech issues they run the risk of having to retest at a later date."
One of the requirements if a student chooses the online testing option is that the only device that can be used is a computer with a functioning camera that runs on macOS, or Windows. A school issued Chromebook is also acceptable, but not a personal one. All tabs or notifications must be shut off as well. Additionally, there will only be one shared specific time to take the test globally. Even though parents can decide where their child will test, there are certain assessments that must be completed either at home or in-person, which can be found here.  
"I'm taking my French exam in-person and my World History one at home," sophomore Emily Podnar said. "These are the positions I was automatically signed up for, so it wasn't a choice."
Besides new alternatives for testing locations, there have also been new changes implemented into these assessments. If a student is testing online, he or she won't be able to return to previous questions. For specific test subjects, particularly those regarding history courses, there will be some new changes applied to the assessments. If testing online, there won't be any long-essay questions (LEQs), but there will be two additional short answer questions (SAQs), making them five rather than three, when compared to the physical copy. 
"I originally wanted to take the in-person version because even though LEQs are terrible, the in-person version offers choices for the SAQ prompts, which I would prefer," sophomore Allison Podnar said. "The online version doesn't have an LEQ, which is nice, but the flexibility in the SAQ is better in my opinion."
For more information about AP online testing, its setup and requirements, click here.
Leave a Comment
About the Contributor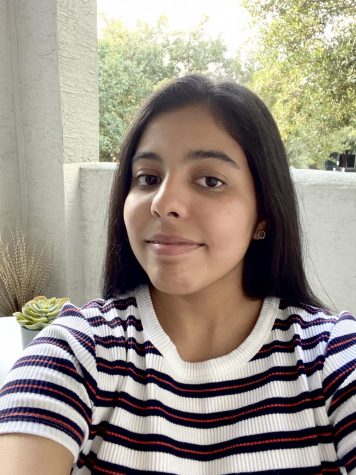 Laura Rivera, News and Life & Arts Editor
Hi, I'm Laura Rivera and I'm a senior this year. This is my third year working for the Trailblazer, but fourth as part of the journalism department....