National Hispanic Heritage Month Begins (Spanish Version)
El Mes Nacional de la Herencia Hispana comenzó el 15 de septiembre y continuará hasta el 15 de octubre. El mes tiene como objetivo reconocer los logros de miembros de la comunidad hispana de renombre y muestra la historia, la cultura y la influencia que la comunidad latinoamericana tiene en los Estados Unidos.
El evento se convirtió en una tradición en 1968, cuando el ex-presidente Lyndon B. Johnson estaba en cargo, por lo que este año cumple 53 años. Más tarde, el ex-presidente Ronald Reagan lo amplió de una semana a 30 días y se convirtió en parte de la Ley Pública 100-402 en 1988. Hoy, el Mes Nacional de la Herencia Hispana es celebrado por muchas comunidades latinoamericanas en los Estados Unidos y sirve para celebrar los éxitos de la comunidad, sus raíces y nacionalidad latina. 
"Durante el Mes Nacional de la Herencia Hispana, reconocemos que la herencia hispana es la herencia estadounidense", dijo el presidente Joe Biden en un discurso en la Casa Blanca. "Lo vemos en todos los aspectos de nuestra vida nacional: en nuestras pantallas de televisión y cine, en la música que mueve nuestros pies y en las comidas que disfrutamos. El Mes Nacional de la Herencia Hispana es un recordatorio importante de cuánta fuerza sacamos como nación de nuestras raíces inmigrantes y nuestros valores como nación de inmigrantes ".
El evento se ha celebrado en el pasado en los salones de clases, pero debido al Covid-9 y a otras circunstancias extenuantes, algunas maestras no están celebrando la actividad en el salón. 
"Una de las actividades que he hecho anteriormente es que los estudiantes investiguen a una persona hispana que ha sido reconocida en los Estados Unidos ya sea por su trabajo o por algún premio obtenido a través de las artes, las ciencias, la política, la música, etc.,"  dijo la maestra de español Roxana García . "Lo que espero que los estudiantes aprendan es conocer a estas personas que han contribuido a la herencia hispana  a través de esta actividad."
Aunque el evento no se esté celebrando en la escuela, algunos estudiantes hispanos están celebrando y reconociendo el evento por su cuenta. 
"Para mí, el Mes de la Herencia Hispana significa que puedo aprender más sobre mi cultura y todas las personas que forman parte de ella", dijo la estudiante de tercer año Clara Cavazos. "También creo que se siente bien saber que la cultura hispana se valora lo suficiente como para dedicar un mes entero a apreciarla. Creo que es genial que los hispanos hayan llegado tan lejos y también me da mucha esperanza para mí ".
Si está interesado en participar en eventos que celebran el Mes de la Herencia Hispana en Austin, presione aquí. 
Leave a Comment
About the Writer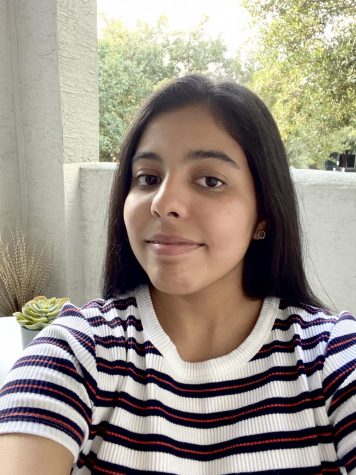 Laura Rivera, News and Life & Arts Editor
Hi, I'm Laura Rivera and I'm a senior this year. This is my third year working for the Trailblazer, but fourth as part of the journalism department....