Halloween on the Farm brings fall fun to campus
Halloween on the Farm is set to occur on Oct. 28 from 5:30-7:30 p.m. at the Future Farmers of America (FFA) farm. The event offers free admission, and McNeil students along with younger children are welcome to attend. 
The annual celebration of Halloween on the Farm offers students the chance to meet the FFA department and its animals. The event also allows incoming students and underclassmen to meet the various clubs and organizations the campus offers. 
"I actually had something similar in my high school agriculture program 10 years ago and it was just a way for us to do community outreach with all the rest of the people in our area," Agricultural Science teacher Meagan deMasi said. "They could come to the farm and see all the different animal projects and what our high school program had to offer. So, I wanted to bring that here to McNeil FFA and kind of let the community and other student organizations come into the farm, so they could see all these different projects we had and see what we were doing."
Besides providing information for future FFA students, Halloween on the Farm offers a variety of Halloween-themed activities and contests that everyone can participate in. Student clubs and organizations will also have games to offer. 
"We have a costume contest, there's Halloween music playing, all the different groups have little candy booths and they'll play games and stuff with the kids," deMasi said. "We've had kids bring out wrestling mats [because] Wrestling was showing them how to do different moves. We've had Girl's Soccer bring out a net before, so there's been all kinds of different activities in the past." 
The event will also have concession stands for students and parents alike, to purchase food or beverages. 
"It's going to be a lot of fun," FFA Reporter Clarissa Burrow said. "You get to party, you get to see the animals, you get to go to all of these different little stands and whatnot. It's just like a huge festival that we have at the farm with the animals, so you get to see the animals, have food and [play] games."
Incoming students and underclassmen are strongly encouraged by FFA members to come in order to become acquainted with the programs, and as a whole, enjoy the activities. 
"I promise you that you won't regret it," FFA President Soobeen Ahn said. "This event happens only once a year, meaning that you're only gonna have four chances to go and join everyone in just having fun as a high schooler. So, why not just give it a chance?"
If interested in representing a club or organization at Halloween on the Farm, click here.
Leave a Comment
About the Contributor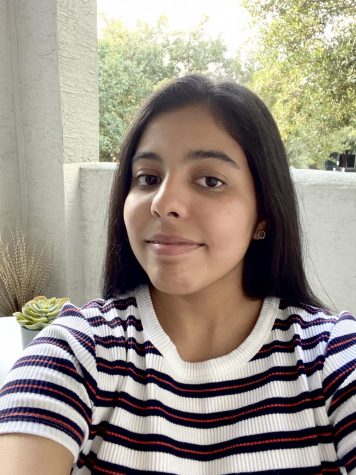 Laura Rivera, News and Life & Arts Editor
Hi, I'm Laura Rivera and I'm a senior this year. This is my third year working for the Trailblazer, but fourth as part of the journalism department....