Choir Middle School Night Recap
Choir Middle School Night took place on Oct. 28 at the Kelly Reeves Athletic Complex during the varsity football game. At the event, the choir program welcomed students from Cedar Valley, Deerpark and Pearson Ranch Middle Schools to perform with them at the game. 
The choir program celebrates Middle School Night annually in order to encourage middle school students to join the organization during their first year of high school. The event also allows students to learn more about the choir program and meet others with similar interests. 
"The main thing we were pushing them to do was to get them out of their comfort zones and talk to other people," senior and Social Officer Laurel Wren said. "We also really wanted to encourage the juniors, sophomores and freshmen to bond with them and get names so that when the middle schoolers do come to McNeil, they can get more involved with the choir program."
At the beginning of the event, McNeil and middle school students had a chance to introduce themselves to the group. 
"We started off with introductions, our name, grade and what school we went to," senior Class Captain and Secretary Elizabeth Severinson said. "After that, we all got hot cocoa, treats and socialized in a group."
Later on, the students sang the McNeil school song and US National Anthem. Then, they returned to the stands to continue socializing. 
"My favorite part was getting to know the middle schoolers and figuring out who I would fit best with when they come to high school for choir," sophomore and Media Team Officer Isabella Thomas said. "I asked them about what their choir experiences were like and since we have a concert with them this week, I was able to bond with them over that."
As a result of the pandemic and the ongoing effects of online school, the choir program is in need of more singers. Wren encourages students to join the organization in order for them to meet new people and take advantage of the opportunities it has to offer. 
"The arts have really suffered during this time, so we really want to pick that back up and get more people involved," Wren said. "Choir is a really welcoming place and when you're involved, you get really cool opportunities like Middle School Night and the All-State process. These are really unique ways to learn about music and we definitely want more people to do that." 
Leave a Comment
About the Contributor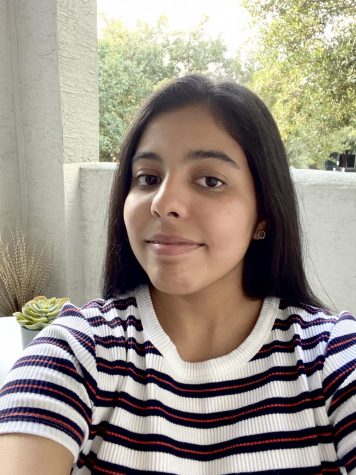 Laura Rivera, News and Life & Arts Editor
Hi, I'm Laura Rivera and I'm a senior this year. This is my third year working for the Trailblazer, but fourth as part of the journalism department....