2022 General Election Proves Texas Remains a Republican State
The 2022 Texas General Election took place on Nov. 8 and incumbent Republican Texas Governor Greg Abbott declared victory with 54.9% of the popular vote against former Democrat US congressman, Beto O'Rourke. 
Along with Governor Abbott, Texas Lieutenant Governor Dan Patrick and Attorney General Ken Paxton won another term with over 50% of the general vote. These results mark the 14th consecutive sweep for the Republican Party across statewide offices. 
"Tonight, Texans sent a resounding message," Governor Abbott wrote on Twitter shortly after his victory was announced. "They want to keep Texas a beacon of opportunity that we have provided over the past eight years."
O'Rourke's candidacy in the general election marks his third time running for office, his first two having been for Texas Senator and US President. Although his campaigns have been unsuccessful, he plans to continue his political work. 
"I don't know what my role or yours will be going forward, but I'm in this fight for life," O'Rourke said during his concession speech. "Who knows what's next for any of us, right? But I just cannot thank you enough [for all the support]."
Although the Republican Party secured another term for its main representatives, the Democrat Party won two of the three available congressional seats in South Texas. This increases Democrat representation for a heavily populated Hispanic region in the US House of Representatives. 
"The north and south sides of Fort Worth are historic Latino or Mexican parts of town," South Texas Tarrant County College professor Peter Martinez told the Texas Tribune. "That population does lean to the left and growth there represents an expansion of the Democratic Party."
Governor Abbott's political campaign originally predicted there would be 10 million people statewide who would cast their ballot this year. However, despite recent statewide demographic change, that number fell short by 2 million. This represents a decrease of voter turnout in comparison to the 2018 general election, which oversaw 55% voter turnout, in comparison to 44% this year.
"To truly feel the effects of a demographic change, whether it's young voters or new people coming in from perhaps more liberal states, people are going to have to vote," Senior Director of the Hobby School of Affairs Renee Cross told the Texas Tribune. "I'm looking at some numbers across the country and some places have record midterm turnout, but we just didn't do it in Texas. People just didn't vote." 
Representatives of the Democrat Party predictions were also proven wrong in this election. They expected more statewide regions to turn blue as a result of the overturn of Roe v. Wade,  the Uvalde school shooting and the power grid failure in 2021. However, as a predominant Republican state with support from conservative rural areas, this did not occur. 
"As large as the cities are and how Democratic that they are, Texas Democrats still don't have a way to get past that red wall of rural Texas," West Texas A&M University college professor Landry Lockett said. "I was seeing some very, very close numbers before a lot of the rural counties reported [election returns], and once they did, it just blew the door open for Abbott, Patrick and all the others."
During his third term, Governor Abbott announced he will continue to prioritize security of the Texas border and promote a pro-life agenda. He also wants to ensure Texas' economic prosperity amid inflation and gas price increases. 
"We must tap into our $27 billion budget surplus and use that to give property owners the largest property tax cut in the history of Texas," Governor Abbott said during his victory speech. "We must fight against Joe Biden's war on oil and gas prices. Now, it's time to go to work for all Texas and it starts by keeping it as the number one state for the best economy in America and the number one state for jobs." 
If interested in viewing all the results for the Texas general election, click here. 
Leave a Comment
About the Contributor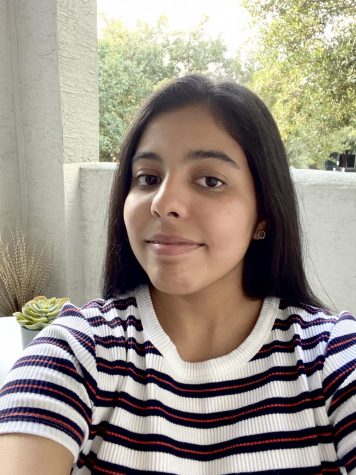 Laura Rivera, News and Life & Arts Editor
Hi, I'm Laura Rivera and I'm a senior this year. This is my third year working for the Trailblazer, but fourth as part of the journalism department....