Texas Senate Bill 14 To Ban Trans Treatment For Minors
The Texas Senate introduced a bill on March 29 that would ban gender-affirming care for trans minors state-wide. If passed, Senate Bill 14 (SB 14) will prohibit health insurance plans and medical practitioners from covering and performing these procedures respectively.
SB 14's purpose is to specifically ban transition-related care, such as puberty blockers and hormone replacement therapy, which delay the onset of puberty. Physician-recommended treatments for minors with gender dysphoria, the distress someone can feel when their physical body does not align with their gender identity, will also be banned. Although transition-related surgeries are rarely performed on minors, the measure would also prohibit them. 
"I was proud to lay out SB 14 on the floor of the Texas Senate today," Senator Donna Campbell said. "We must protect children from medically unnecessary, irreversible gender modification treatments." 
The vast majority of Republicans approve of SB 14, with the entire Republican State Affairs Committee supporting the bill with a voice vote of 7-3. However, Democrats have publicly voiced their disapproval of the bill and expressed their support for the trans community. 
"You have a friend and supporter in me," Texas House Representative Jolanda Jones said. "I am a part of the [LGBTQIA+]  family and I will vote to protect us all because if you come for one of us, you come for all of us."
During a legislative session, opponents of SB 14 frequently claimed that the bill's passing would affect the mental health of transgender youth. They also took the stance that trans treatments have positive effects, citing research they reduce the rate of suicide ideation and attempts of trans and non-binary youth. 
"A blanket ban on these medical treatments is a very blunt instrument for the state to use," Texas Pediatric Society President Louis Appel said. "It prohibits treatment options that are critical for the health and well-being of a transgender youth with gender dysphoria." 
Despite the research that was presented during the legislative session, Republican minds were not swayed. Senator Campbell believes that medical professionals prompt children to believe they are unhappy with the gender they were assigned at birth and misguide parents. She claimed that this is a "social contagion." 
"If there comes a time when a profession such as the medical profession cannot regulate itself to protect patients, protect children, then the government needs to step in," Senator Campbell said. "You can still care and believe that the child needs to have that concern addressed, but there are other ways to do it."
Recently, Senator Campbell amended the bill to allow children who are currently on puberty blockers and participating in therapy to continue if the bill is signed into law. Families who haven't started trans treatments will have until June 3, 2023 to begin medical procedures. SB14 will make its way to the lower chamber after a final vote has been taken in the Texas Senate. 
"This proposed legislation strips the rights of families to direct their own health care and jeopardizes the livelihood and mental health of youth," member of the National Association of Social Workers Evelyn Smith said. "Medical decisions should be left in the hands of families and medical professionals, not the government."
Leave a Comment
About the Contributor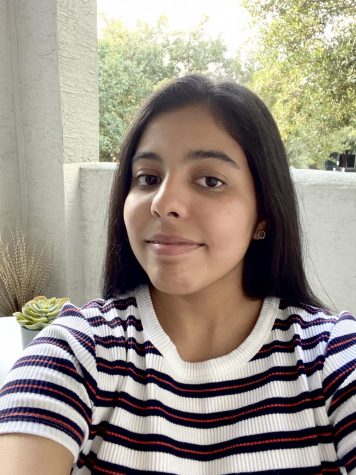 Laura Rivera, News and Life & Arts Editor
Hi, I'm Laura Rivera and I'm a senior this year. This is my third year working for the Trailblazer, but fourth as part of the journalism department....