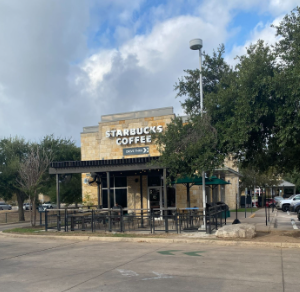 Just in time for the Fall seasonal drinks, the Mopac and Parmer Starbucks reopened on Tuesday, Aug. 29 after being closed for renovations. While the temporary closure came as a shock and disappointment to many, students can now go to Starbucks during lunch, before and/or after school.
"I was pretty upset because it's a really convenient place to go just to hang out with your friends or get a quick drink or snack," senior Nidhi Warrier said. "As a senior, it's the fastest place to get lunch because of mobile order."
Many students went to the popular coffee shop because of its convenience.
"I did go to Starbucks very often last year, and still do this year," sophomore Ariel Jones said.
Story continues below advertisement
The Starbucks renovation made significant changes to the interior of the building. New chairs and tables were placed in the recently finished coffee shop.
"I went there the day it reopened," Warrier said. "I really like it, I think it's modern and chic and they did a great job renovating the place, however, I will say that there's less room indoors, kind of miss the large circle tables."