When the Caricature Becomes the Platform
With election day under a month away, this presidential race has easily set itself apart from any in recent history. And that's aside from a widespread and ruthless virus, a dissent over the state of racial injustice, a northwestern coast engulfed in flame and ash and an America confused in economic struggle and political tension. Each one of these contribute to the atmosphere of an election year, sure, but focusing specifically on the election and the two candidates, no year has ever seemed so starkly divisive and so starkly personal. Both Donald Trump and Joe Biden have ignored the prospect of talking concrete policy, and instead have entered a cold-blooded race to sketch, draw and paint their opponent as the destruction of America.
Virtually no one has talked about solid policy in the past few weeks. The key messages from either campaign haven't been about their candidate's plan for policies, their ideals (aside from affiliation with Republicans or Democrats), or even the typical first 100 days proposals. Most of the media put out by the campaigns have been showing the other in a negative light, and then saying that their candidate is better by comparison. They don't try to raise the candidates up, just put the other one down. These ads are not talking about Trump's plans for economic resurgence or Biden's plan for unifying the country. These ads are entirely on the attack, favoring a message of 'don't vote for that other guy.' Furthermore, neither individual candidate seems too focused on getting their own policies out. When facing off at the first presidential debate, even when pressed with questions about a range of topics, neither candidate talked about their own plans, only attacking the other's. The closest thing to policy said was a sliver of information about Biden's environmental plan, but it still came in the form of an attack. Biden attempted to respond to the question regarding the environment by outlining his own plan, but most of the details given were in the form of Biden disparaging Trump's interruptions, trying to make his plan seem exactly like the controversial Green New Deal. This ended up helping Biden, making his plan seem more moderate by denying Trump's allegations of a radical left agenda. But it remains astounding that during a debate between the two men running for President of the United States, the only amount of information we got about anyone's actual policy was through an attack. 
If there was one thing that was made clear from the President's contraction, treatment, and recovery from his case of COVID-19, it's how obsessed Donald Trump is with his image. Now, image is always a key part of a political campaign, as even the most airtight policies can be turned rotten with the wrong face. But Trump has repeatedly gone to nonsensical measures in order not just to save face, but to make himself appear more like a superhuman genius. During his time at Walter Reed Medical Center, he staged a photo op in which he was pictured signing blank pieces of paper, decided to take a drive with members of his Secret Service to wave to supporters, and instructed his doctor to omit various details about his health. The latter was not in an attempt for patient confidentiality, but an attempt to stop any notions that Trump was weak. Even when being treated for a disease that has already killed 215 thousand Americans, Trump could not spare a sliver of humility in the public view. Regardless of his actual health, he has painted himself as a warrior, using the entire situation like it was just a political stunt. And while no American would truly want for a President of the United States to be killed, especially not suffering from COVID-19, it is truly impressive how Trump can continue to downplay the effects of the pandemic on the human body and on American lives, all in the name of trying to justify his administration's lack of response. And perhaps the darkest display of showmanship came when he decided to halt negotiations in the Senate for the next relief bill until after the election, more specifically until after he wins. Considering the fact he has yet to say that he would absolutely concede the election should he lose, this move turns into a threat of holding the American people hostage until Trump gets what he wants. Sadly, Biden has sought to fight fire with fire. He's shifted away from debating the Trump administration's policies and focused more on personal attacks, even going as far to start calling Trump names, clearly shown at the first presidential debate. This isn't too surprising, just from seeing how hard Trump leans into his aggressive tactics when he campaigns, but it's still disappointing. When the effects of countless issues affecting present and future Americans are being clearly displayed across the nation, the two men in line for Commander in Chief are not putting their plans front and center.
There does seem to be, however, a bit of hope yet. The vice presidential debate was informative and even pleasant to watch. It was a proper political debate, with both Kamala Harris and Mike Pence making some great selling points for their respective candidates. What's more, there was a greater sense of respect and civility on that stage. The candidates congratulated each other more than once, and while there were some instances of interruptions from both debaters, it remained quelled to a point where they respected the moderator and the rules of the debate. Another sign of light came from Biden receiving a chance to go in depth into many of his policies during the town hall Thursday night, talking about topics ranging from taxes to fracking to LGBTQ rights. Meanwhile, Trump was left fielding questions about his tax returns and his COVID status. But even when Trump was asked about his plan for healthcare should his efforts to repeal the Affordable Care Act succeed, he could not give a definitive plan of any kind. Currently, he is playing the part of political critic instead of political leader, and regardless of their differences in views, Biden is certainly starting to show he's the candidate with a plan. 
Nov. 3 is two weeks away. While Biden is slowly shifting towards talking about policies, albeit late in the game, he is demonstrating that he is prepared and capable for office. Conversely, Trump is continuing with the same tactics that he's used the past four years, painting a picture of his opponent and then taking a blowtorch to it. And while this strategy has proven to work well for him in keeping supporters, what he needs to do is gain supporters, and frankly that does not appear to be happening. Of course, we won't truly know which way the country decides until all of the ballots are counted, but Trump is currently down in the polls. Unless he changes his campaign to reach out farther than the comfy base he's built, he very well could end up short on votes.
Leave a Comment
About the Contributor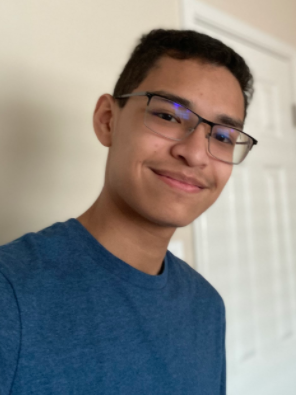 Ruben Flores, Editor-in-Chief and Opinions Editor
My name is Ruben Flores, and I'm a senior This is my third year on staff. I'm a reporter, the  Opinions Editor and Editor-in-Chief. I play the bass...