Recap of Biden's First Year
The entrance of Joe Biden into the White House in the beginning of 2021 brought a breath of fresh air for those who despised the previous presidential administration. However, his entrance also created extremely high expectations from people who desired a feeling of normalcy for the next four years. Now that it's been a year since President Biden re-entered the Oval Office, it's time to take a look whether or not President Biden met these expectations. 
Successes
The American Rescue Plan: Less than two months after entering office, President Biden's first political move and major success was the passing of the American Rescue Plan. As he promised Americans during his presidential campaign, President Biden created a COVID-19 relief package that extended health and economic-related benefits. Despite its big price tag of $1.9 trillion, the American Rescue Plan distributed $1,400 checks to citizens making less than $112,500 a year, and increased the Child Tax Credit by $1,000 per child. The plan also offered unemployment benefits and lowered health insurance premiums. For being in office only two months, President Biden granted many Americans the support they needed during this difficult time, and showed promise for his presidential term. 
Rejoining the Paris Climate Accords: Undoing some of the damage former president Donald Trump made, President Biden signed an executive order to rejoin the Paris Climate Accords during his first day in office. Trump backed out of the agreement back in 2017, making the U.S. the first country to leave the plan since its ratification in 2015. By rejoining the agreement, the U.S. pledged to limit the temperature increase to 1.5 degrees Celsius and to increase the use of greenhouse emissions in order for the world to reach a "neutral" climate status by mid-century. The move to rejoin the agreement was another fulfilled promise from President Biden and directly combats climate change, an issue he highly prioritized and promised to tackle head-on as president.
Infrastructure Investment Act: Almost 10 months after entering office, President Biden's infrastructure plan passed the House of Congress in Nov. However, it can't be said that the plan received full support from both political sides. Various Republicans expressed uncertainty on the plan's cost of $3 trillion and its national effect, causing a bipartisan version of the original plan to become enacted. Nevertheless, over 12 Republican congress members voted in favor of the plan, making it a reality. The Infrastructure Investment Act aimed to rebuild national roads, bridges and rails. It also attempted to expand access to drinking water and high-speed internet, among other things. The passing of the infrastructure plan not only advanced President Biden's political agenda, but also oversaw political unison after four years of national division. 
Increased COVID-19 vaccination rates: During his campaign, President Biden claimed he would lead the fight against COVID-19 with "science and truth." That claim and eventual plan grew into fruition, with 74% of American adults now being fully vaccinated, and more than half a billion COVID-19 vaccines administered. Furthermore, 38.1% of previously vaccinated adults have received a booster shot. Despite these milestones, there's still vaccine hesitancy and the emergence of the new Omicron variant. In response to these conflicts, President Biden pledged to distribute one billion COVID-19 tests and 400 million N95 masks free of charge for all Americans. Despite there still being significant improvements and work left to complete regarding this matter, President Biden's administration managed to combat COVID-19 in an efficient manner, when compared to Trump's conspiracy-led administration. 
Lowered Unemployment Rate: Certainly, the highlight of President Biden's first year as Commander in Chief was the significantly lowered unemployment rate. When he first entered office, the unemployment rate was at 6.9% due to COVID-19 layoffs and the closing of businesses. At the end of December 2021, the unemployment rate fell to 3.9%, a massive decrease in the span of just a year. This milestone is impressive, considering he entered office during a time of turbulence in all presidential areas. The change also showed promise for his upcoming years in regard to individual economic stability and the job market. 
Failures
Afghanistan Withdrawal: By far one of the worst failures of the Biden administration was the removal of U.S. troops from Afghanistan. President Biden's aim when signing the executive order for this decision was to end a 20 year war. However, if anything, it worsened the situation. The removal left thousands of Afghans who were loyal to the U.S. and even American citizens, stranded. The event also oversaw violence, primarily from a suicide bomb that killed 13 U.S. service members and 169 Afghans. Even though the decision to leave is correct, its detrimental effects are the reason 69% of Americans deem the situation to have been "poorly handled." Now that the Taliban is in control of Afghanistan, 46% of Americans believe it will pose a threat to the U.S, which is a cause of concern. As a whole, the removal of American troops could and should have been handled differently, making it one of the administration's most disappointing and worrying courses of action in 2021. 
Immigration: When running for president, Biden made it clear that he was a pro-immigration candidate and attacked Trump's poor handling of the border crisis. However, the president hasn't made much progress in this area either. Despite ending the Remain in Mexico policy during his first day in office, the measure was reinstated in December 2021 due to a strong demand by Texas and Missouri. The task force to reunite children at the border also hasn't proven to be the most effective. At the end of 2021, the Department of Homeland Security announced that 100 children were reunited with their families. However, 350 parents still hadn't been located. President Biden attempted to make efforts to improve the situation at the border, but they just weren't enough or were heavily followed with backlash from his opponents. This resulted in a lack of progression and unfortunately, his immigration goals were far from being met during this first year. 
Build Back Better Plan: During his presidential campaign, President Biden announced his goal to rebuild the middle class with his Build Back Better Plan. However, the effort met severe opposition from Republicans in the Senate and lost its crucial vote from West Virginia Democrat, Joe Manchin III. Despite Senator Manchin expressing that he's open to rethink his position or negotiate with President Biden, the plan hasn't been able to move forward. If passed, Build Back Better would offer universal preschool, strengthen the Affordable Care Act, combat climate change directly through a Clean Energy and Sustainability Accelerator as well as creating other benefits. In order to compromise, the Senate is considering only enacting the climate portion of the plan. Due to the vast opposition, it's very unlikely the plan will come into effect, making it one of President Biden's failed attempts to provide full relief to Americans.  
High Inflation Rates: Despite the creation of millions of jobs, inflation during 2021 increased by 6.9%, the highest it's been since last recorded in 1982. As a result, gasoline and grocer prices have skyrocketed. The increased inflation rate is due in part to a COVID-19 economic rebound of government stimulus and supply shortages in businesses. There have also been worker shortages, causing employers to increase weekly pays and boost prices in order to compensate for high labor costs. These circumstances have caused many to criticize President Biden's handling of the economy. Even though the increasing inflation rate is alarming and should be kept in mind by the president, it will continue to grow as COVID-19 remains a relevant issue. In order to combat the inflation rate, President Biden will have to continue the promotion of COVID-19 vaccinations and oversee a significant decrease in COVID-19 cases during 2022, an unlikely occurrence with the Omicron variant. 
Like all other presidents enduring their first year in office, President Biden oversaw successes that embarked the nation on a new journey towards hope and unification. However, he also experienced failures and roadblocks that limited the progression many expected his administration to reach. Nevertheless, President Biden's first year in office certainly brought back normalcy to some degree, despite the ongoing COVID-19 fight. The president still has three more years in office to go, and hopefully, the nation will find itself in a much brighter place by then. 
Leave a Comment
About the Contributor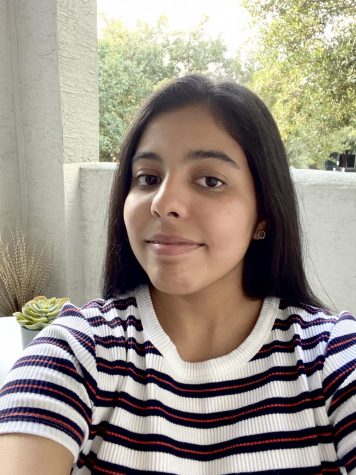 Laura Rivera, News and Life & Arts Editor
Hi, I'm Laura Rivera and I'm a senior this year. This is my third year working for the Trailblazer, but fourth as part of the journalism department....