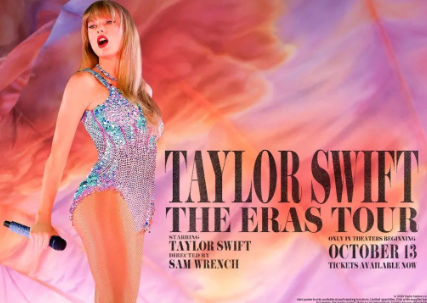 Taylor Swift released a film based on her record-breaking concert, The Eras Tour, in theaters worldwide on Oct. 13. It is two hours and forty-eight minutes long and was filmed over three nights during Swift's show at LA's SoFi Stadium in August, which was the last show on the US leg of her tour.
Noting that getting tickets for the tour was extremely difficult, Swift's main purpose for releasing the film was to allow fans who were unable to get tickets to catch a glimpse of the concert. Fans who went to the concert also went to the film. It was a clever, stitched-together approximation of an Eras Tour live show.
Swifties stormed the theaters wearing their sparkliest outfits. The friendship-bracelet trading trend still went on. A new outfit trend started where fans would wear Kansas City Chiefs jerseys with Swift's name on the back with the number thirteen–her lucky number. This was due to the sparked dating rumors between her and football tight end for the Chiefs, Travis Kelce.
In terms of merch, many of the theater chains like AMC, Regal and Cinemark gave Swifties a free mini poster and they also got to purchase Eras tour-themed soda cups and popcorn buckets. Some of them were specifically priced at $19.89, in accordance with Swift's fifth studio album, 1989, which will be re-released on Oct. 27.
Story continues below advertisement
I had gone to her show at Houston's NRG Stadium in April, and my favorite part of it was the Reputation era because although it is one of my favorite albums, the technology and stage design that was used for the era was magnificent, especially during the Don't Blame Me performance. I was also blown away by how there were digital snakes slithering across the stage.
Overall, I am glad I got to experience the spectacularity of the concert again through the film and I would say that the Eras Tour film was an incredible, dazzling experience for both Swifties were unable and able to see her live.