Mavericks Capture First Win of Season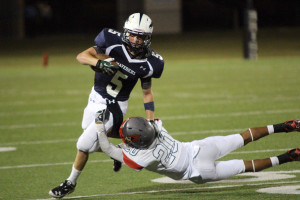 The Mavericks finally broke their losing streak Thursday when they beat Del Valle 27-17. McNeil brought that intensity from the end of last week's game and carried it through the entire four quarters.
A 25-yard pass from Hayden Cooper to Justin Johnson started things off right as the Mavs put the first points on the board for the evening. This was followed by 10 unanswered points by the Cardinals. Those points were answered when, in a repeat from last week, Caleb Walsh pulled off another pick six, this time for 20 yards.
With the Mavericks leading 14-10 going into the second quarter, a 20-yard pass from Cooper to Jackx Rogers increased the lead to 10 going into the half.
After a scoreless third quarter for the Mavs, a 2-yard run by Colton Russell sealed the team's first victory of the season.
Cooper finished the game 13 for 26 with 108 yards and 2 touchdown passes, while Russell finished the game with 266 yards, 39 carries and 1 touchdown.
McNeil faces off against Austin High in its next game Thursday at House Park Stadium. With momentum on their side, they look to improve to 2-2.
Leave a Comment