Fore!
Boys Golf Season off to a good start
Varsity boys golf opened up its season on a high note when the team made good finishes in two tournaments in the span of two weeks.
In weekend one, the Mavs headed to Huntsville to compete, facing off mainly against a slew of Houston area high schools. Senior Ben Reinhardt finished the best overall with a 15th place finish out of 100 total competitors.
"I was happy having the best finish," Reinhardt said. "I would have liked to have seen my teammates finish ahead of me as I didn't play all that well. I wish we would have had a practice round on the course the day before, as some of the kids on the team had never played the course before."
For week two, the boys headed to a tournament in Lampasas where the Mavs took home a third place finish out of 12 teams.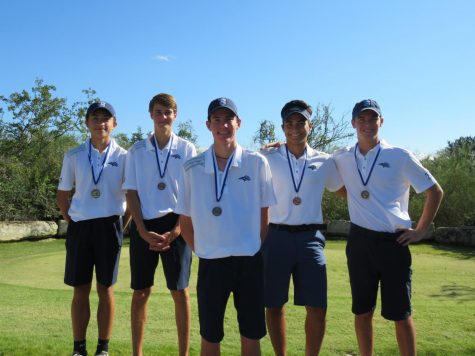 Sophomore Franco Melhado led the team tying for third place overall. Reinhardt again finished decent, finishing Top 10 overall in addition to Senior Diego Courtney, "We easily could have finished better," Courtney said. "If we had practiced the day before as it was raining a lot. We also had lots of big numbers, which we need to avoid. We were only 2 points [from finishing second] and only four [points from finishing first]." The securing of bronze was also assisted by Seniors Landry Caver and Jack Fretwell, who both had decent finishes. With a good season start, the team is looking more than good!
Leave a Comment