Swimming Strong
Mavs find success at regional meet, advance to state
The swim team competed at regionals on Feb. 1-2 at the Mansfield ISD Natatorium with 20 swimmers in six events placing to advance to state.
"This weekend was quite the success," Coach Johnny Foss said.
McNeil was entered in 13 events at region. All swimmers qualified for finals.
"I'm really proud of ourselves," junior Thomas Shomper said.
Region Results:
+ Girls Medley Relay (Allie Freeman/Kayla Hess, Isabella Slaughter/Madison Kalina, Kaylie Pasquino, Lorretta Bates) – 12th place
+ Freeman – 500 Freestyle – 10th Place
+ Girls 200 Free Relay (Freeman, Rosie Trevino, Slaughter/Hannah Garcia, Bates) – 10th Place
+ Thomas Shomper – 100 Freestyle – 8th Place
+ Fox Pope – 50 Freestyle – 5th Place  
+ Shomper – 100 Backstroke – 4th Place
+ Taeyoon Kim – 100 Breaststroke – 4th Place
The following swims finished high enough to advance to the 6A UIL State Swim Meet Feb. 15-16 at the University of Texas
+ Boys Medley Relay (Shomper, Kim, Mauri Trevino, Ian Frey) – 4th Place
+ Fox Pope – 100 Freestyle – 3rd Place
+ Cameron Katzman – 200 Individual Medley – 2nd Place
+ Katzman – 100 Backstroke – 2nd Place
+ Boys 400 Free Relay ( Katzman, Shomper, Trevino, Fox Pope) – 2nd Place
+ Boys 200 Free Relay (Katzman, Frey, Toba Akande, Pope) – Regional Champions and set a school record.
At the State meet, all six events advanced to finals. However, none finished high enough to make it to the medal stand.
About the Writer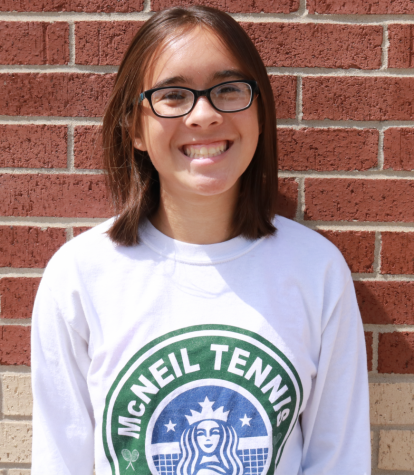 Tiffany Sawruk, Features Editor
Hi, I am a senior and this is my third year writing for the Trailblazer. I am also on the varsity tennis team and volunteer outside of school. I am very...